Why not create your own hamper from scratch?
Regular price
Sale price
£42.00
Unit price
per
Featured
Sold out
Fresh Food Hampers

For hampers with perishable items, we provide overnight delivery with eco-friendly ice packs to ensure freshness. Ensure someone is available for receipt.

Non-perishable hampers also have overnight delivery, but immediate opening isn't necessary. See delivery options at checkout for details.
Why Our Hampers?

Each hamper is a testament to the art of small-batch production, where every detail matters. At Artisan Deli Market, we're dedicated to spotlighting the finest artisanal creations

Direct Relationships: Our commitment is to authenticity. By forming close ties with small-scale artisan producers, we guarantee genuine flavors and the pinnacle of culinary craftsmanship.

Artisanal Selection: From the cheese maker perfecting each batch in the English countryside to the chocolatier crafting chocolates by hand, our hampers are a celebration of artisanal Europe.

The Ideal Gift: Be it a festive occasion, a heartfelt gesture, or a spontaneous surprise – gifting our hampers means sharing a unique gourmet experience, crafted with love and care.

Eco-Conscious Elegance: While our focus is on gourmet excellence, we never overlook our environmental responsibility. Each hamper is thoughtfully packaged, ensuring sustainability meets sophistication.

Share the essence of small-batch artistry with a hamper that tells a story in every bite.
Delivery

At Artisan Deli Market, we offer the following delivery options:

Standard Delivery - £5.95
Our standard delivery service delivers your hamper within 1-3 working days from your selected delivery date on the calendar function at checkout.
Named Weekday Delivery - £7.95
Choose our named weekday delivery option and select a specific weekday for your hamper to be delivered, making it easier for you to plan ahead.
Weekend Delivery - £10.95
For those who require weekend delivery, we offer this option for your convenience.

Use our calendar function at checkout to select a delivery date that works best for you. If you're purchasing multiple hampers, you'll have the flexibility to choose a different delivery date and address for each one. Order with ease and let us take care of the rest.
Would you like to treat yourself or that special someone? This delicious goodie box of fabulous flavors is sure to please! In the hamper, you'll find yummy butterscotch popcorn, mouthwatering passionfruit truffles, two different flavored chocolate bars, as well as a large box of 14 assorted luxury truffles and salty fudge. Perfect for the ultimate chocolate lover!
View full details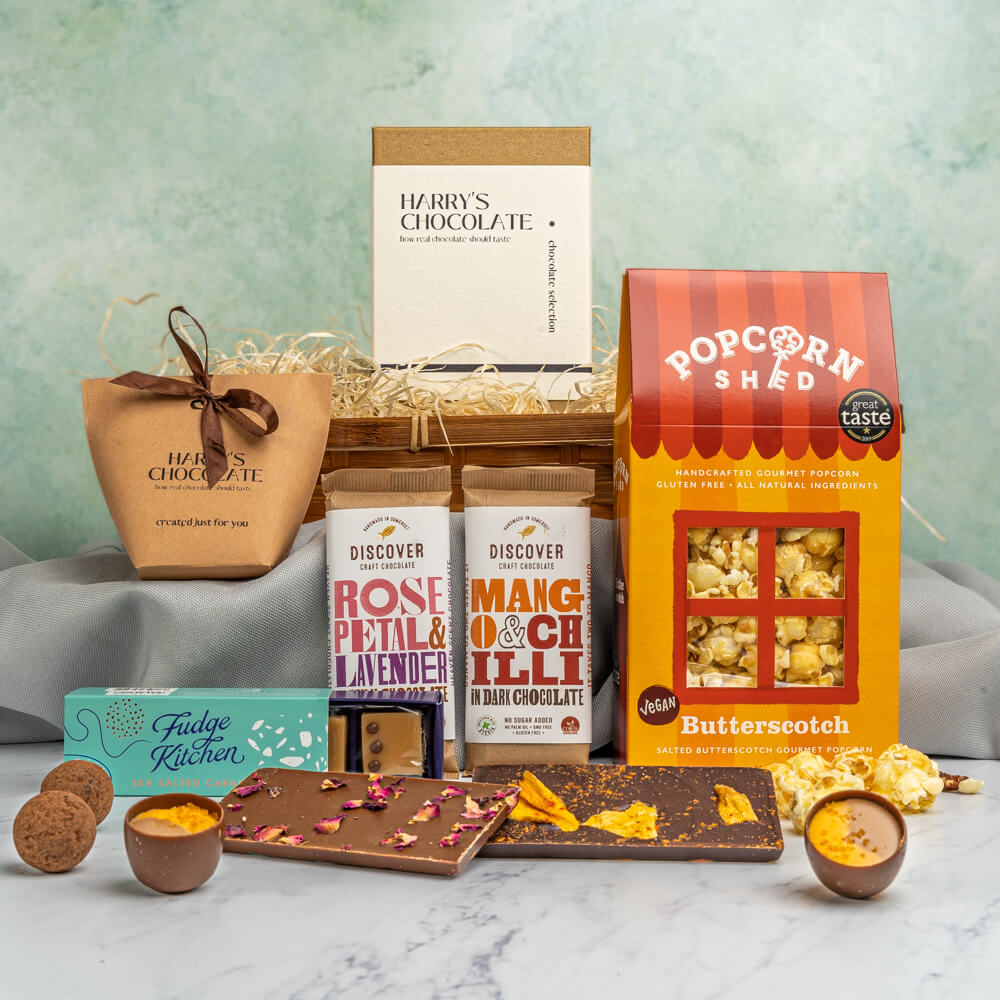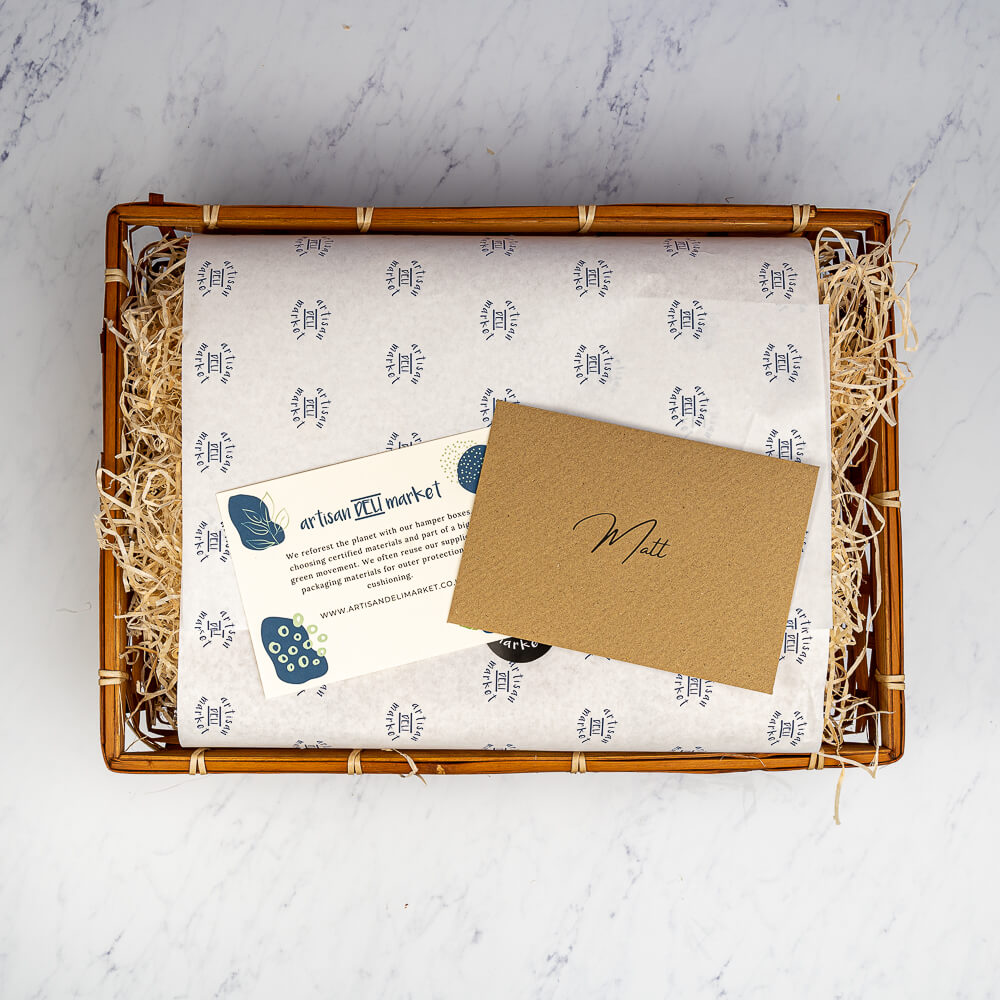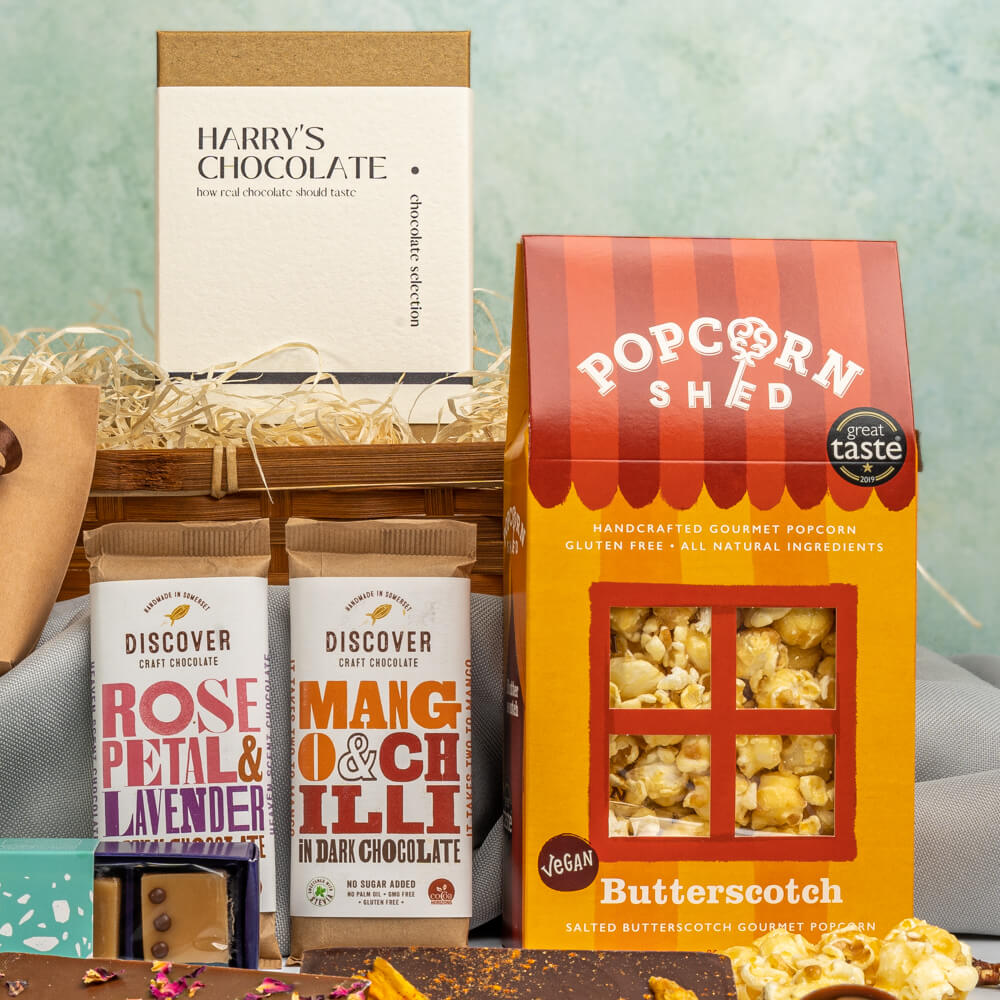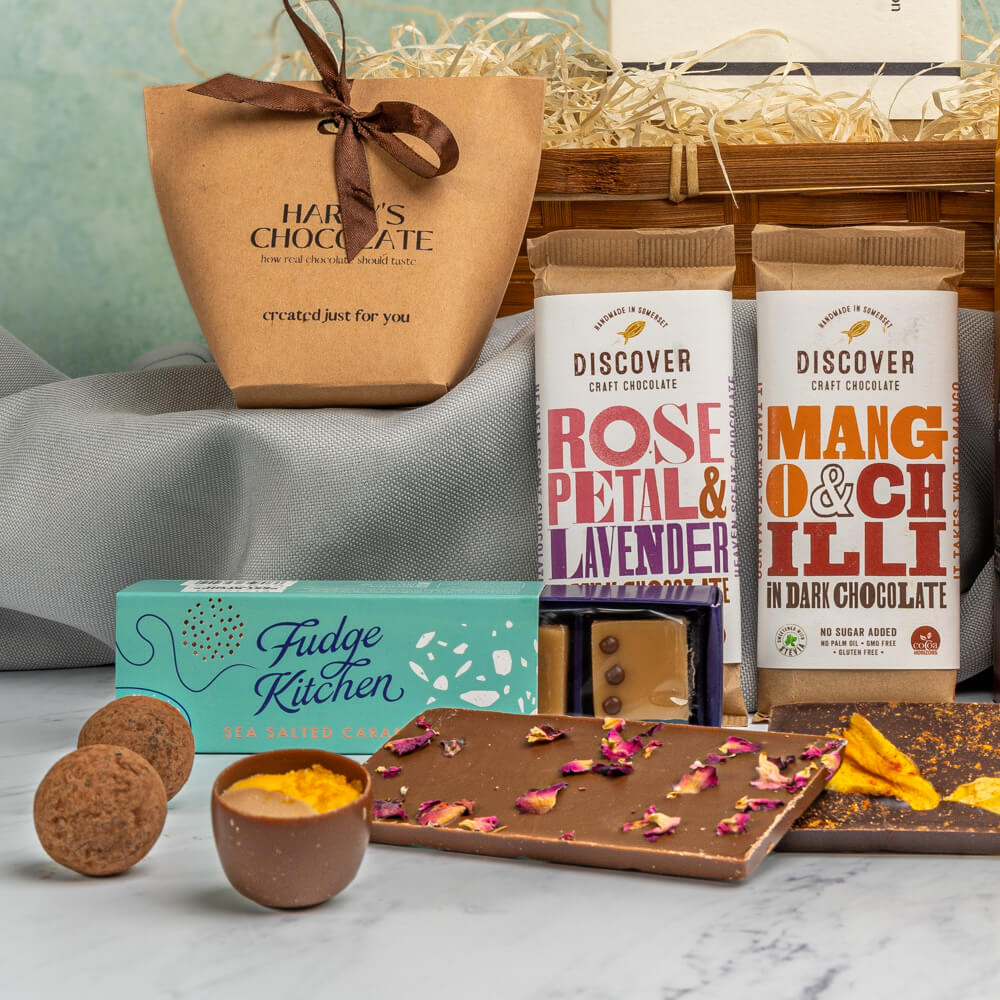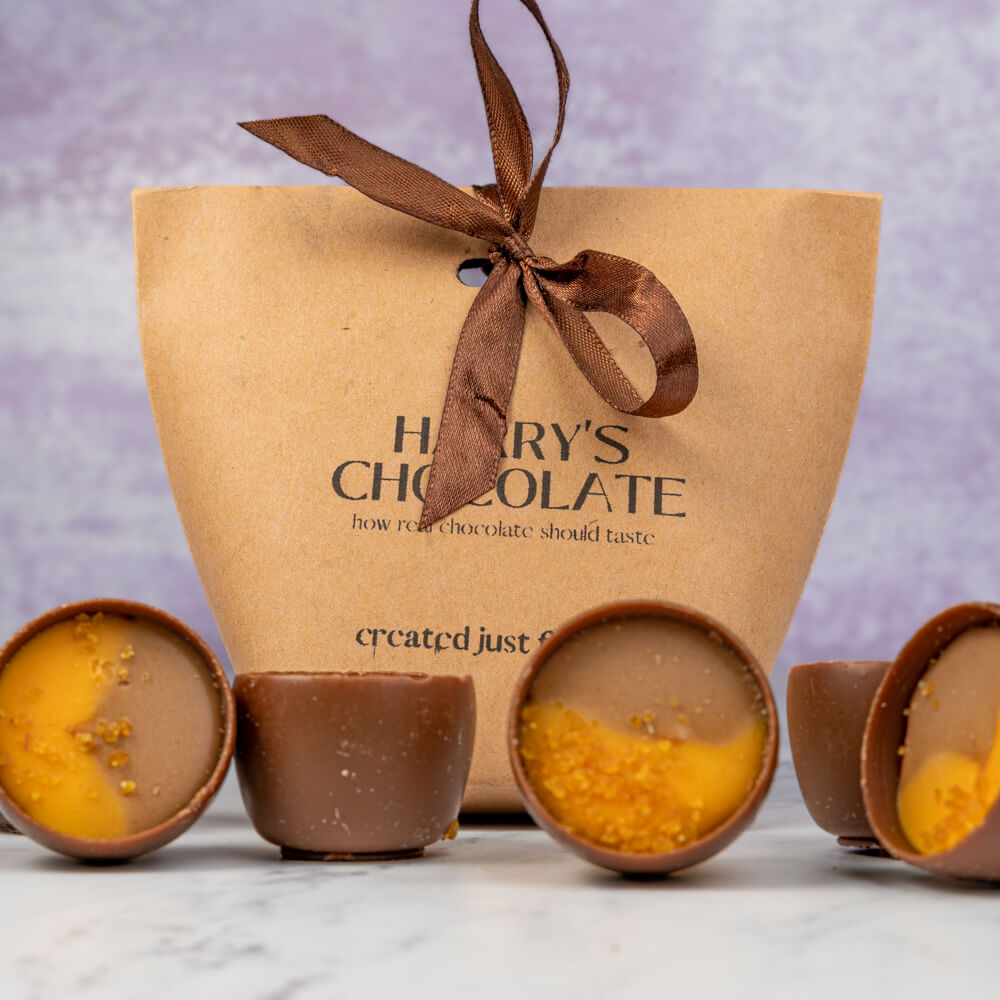 What's inside?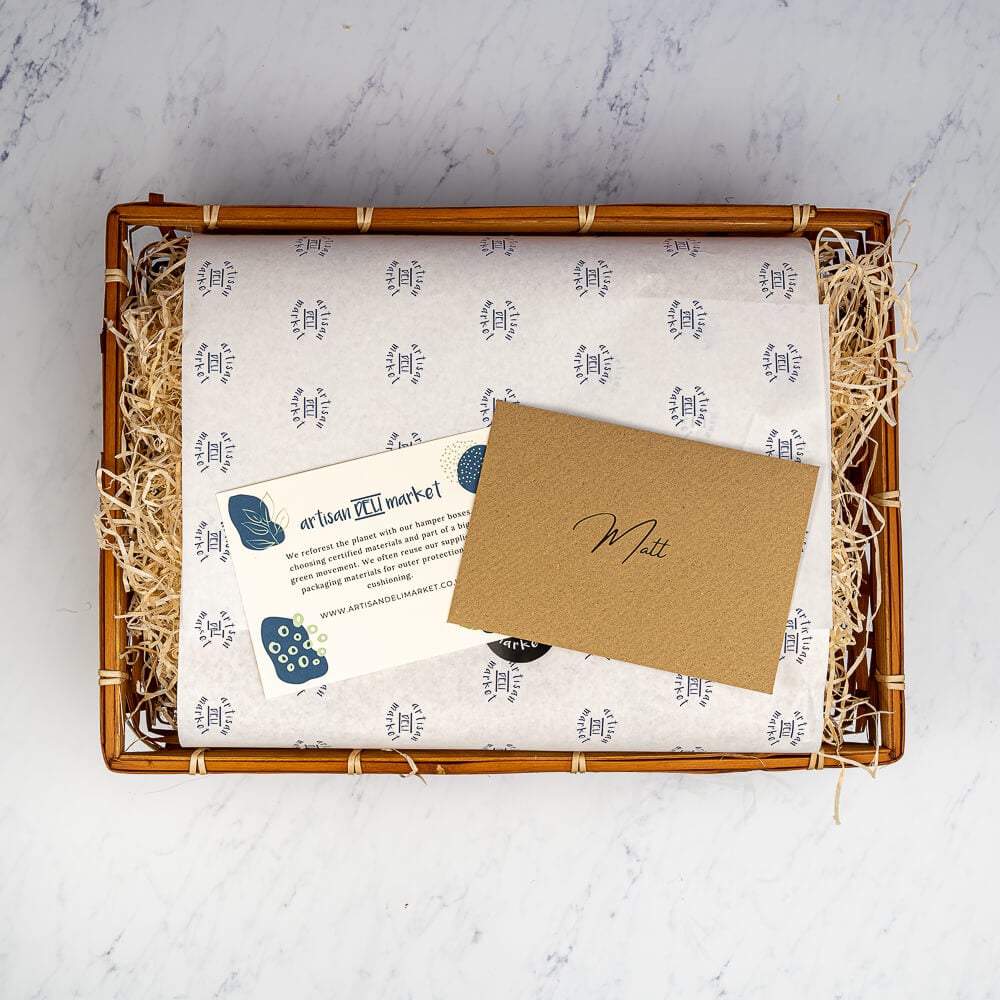 View

View

View

View

View

View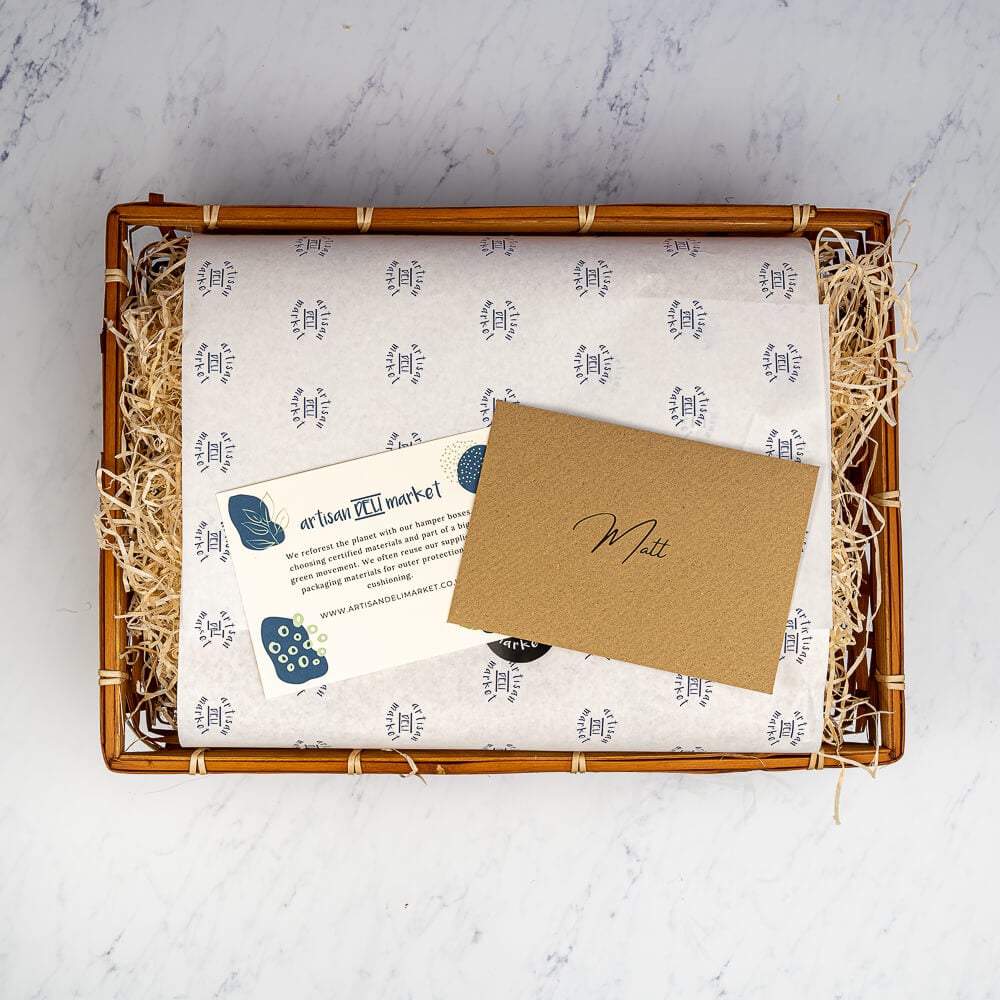 Bamboo Basket
Packed with shred to create a voyage of discovery, in one of our signature Artisan Deli Market gift baskets with a luxe, matte texture.
Ivory matte gift card with your personalized message. Secured in beautiful kraft envelope with printed recipients name.
Artisan Classic Chocolate Collection 180g
Product Details
Nutritional Information
These delicate treats are handmade by a legendary Belgium chocolatier who migrated to London in the 1990s.
Contains:
- Hazelnut Praline Chocolate Truffles
- Dark Chocolate Caramel
- Flaked Milk Chocolate Truffles
- Pink Marc de Champagne Chocolate Truffles
- Dark Chocolate Noisettes
- Honey Vanilla Chocolate
Wheat Flour [Wheat FlourCalcium CarbonateIronNiacinThiamin],Raising Agents (Calcium PhosphateSodium Bicarbonate), Butter, Sugar, Milk, Sultanas Sunflower oil
Sea Salted Caramel Fudge Trio Slider 63g
Product Details
Nutritional Information
Made by: Fudge Kitchen
Nigella Lawson once described Sea Salted Caramel as "the Class A drug of the confectionery world" and we tend to agree. Indeed, faced with sweet, buttery caramel and the satisfyingly surprising crunch of sea salt, when it comes to rehab we say, "No, No, No!"
Ingredients: Sugar, Golden Syrup, Unsalted Butter( Milk ), Whipping Cream( Milk ), Water, Sea Salt, Emulsifier: Soya Lecithin( Soybean ), Caramel Milk Chocolate (Sugar, Cocoa Butter, Whole MILK Powder, Cocoa Mass, Skimmed MILK Powder, Caramelised Sugar, Emulsifier: SOYA Lecithin; Flavouring, Spices, Natural Vanilla Flavouring)( Milk,Soya ),
Butterscotch Popcorn 80g
Product Details
Nutritional Information
Made By: Popcorn Shed
Vegan Salted Butterscotch Caramel
A sweet, buttery, smooth classic flavour with a hint of sea salt. It's buttery without butter, call that a magic trick!
Ingredients: Popped Corn (31%), Sugar, Glucose syrup, Golden syrup, Coconut Oil, Rapeseed Oil, Salt, Raising agent: Bicarbonate of Soda, Natural Flavoring (0.3%), Emulsifier: Soya Lecithin.
Honeycomb Milk Chocolate Bar 75g
Product Details
Nutritional Information
Made By: Love Cocoa
Sticky honeycomb pieces infused with British honey all combined with single origin, organic, fairly-traded milk chocolate from The Dominican Republic.
INGREDIENTS: MILK Chocolate (sugar, cocoa butter, cocoa mass, MILK powder, emulsifier: SOYA lecithin; flavouring: natural vanilla), (4%) Honeycomb Granules (sugar, glucose syrup, raising agent: sodium bicarbonate, rice flour).
100% Luxury Guaranteed - Only the finest food and drinks, handpicked for quality.
The Magic of Our Hampers
We foster direct relationships with our artisan food producers: from the cheese maker meticulously crafting each wheel, to the chocolatier who pours passion into every piece, the devoted couple perfecting their chutney, and the small-scale baker bringing handmade scones to life.
Leave a Lasting Impression: Create Your Own Hamper Now.