Why not create your own hamper from scratch?
Regular price
Sale price
£32.00
Unit price
per
Featured
Sold out
Fresh Food Hampers

For hampers with perishable items, we provide overnight delivery with eco-friendly ice packs to ensure freshness. Ensure someone is available for receipt.

Non-perishable hampers also have overnight delivery, but immediate opening isn't necessary. See delivery options at checkout for details.
Why Our Hampers?

Each hamper is a testament to the art of small-batch production, where every detail matters. At Artisan Deli Market, we're dedicated to spotlighting the finest artisanal creations

Direct Relationships: Our commitment is to authenticity. By forming close ties with small-scale artisan producers, we guarantee genuine flavors and the pinnacle of culinary craftsmanship.

Artisanal Selection: From the cheese maker perfecting each batch in the English countryside to the chocolatier crafting chocolates by hand, our hampers are a celebration of artisanal Europe.

The Ideal Gift: Be it a festive occasion, a heartfelt gesture, or a spontaneous surprise – gifting our hampers means sharing a unique gourmet experience, crafted with love and care.

Eco-Conscious Elegance: While our focus is on gourmet excellence, we never overlook our environmental responsibility. Each hamper is thoughtfully packaged, ensuring sustainability meets sophistication.

Share the essence of small-batch artistry with a hamper that tells a story in every bite.
Delivery

At Artisan Deli Market, we offer the following delivery options:

Standard Delivery - £5.95
Our standard delivery service delivers your hamper within 1-3 working days from your selected delivery date on the calendar function at checkout.
Named Weekday Delivery - £7.95
Choose our named weekday delivery option and select a specific weekday for your hamper to be delivered, making it easier for you to plan ahead.
Weekend Delivery - £10.95
For those who require weekend delivery, we offer this option for your convenience.

Use our calendar function at checkout to select a delivery date that works best for you. If you're purchasing multiple hampers, you'll have the flexibility to choose a different delivery date and address for each one. Order with ease and let us take care of the rest.
Experience a delicious variety in this cheese and cracker snack basket. Enjoy two distinct flavors of cheddar with a unique chutney made from foraged ingredients. Savor the classic flavor of basil combined with the sharpness of the cheddar, finished off with a touch of salty nuts.
View full details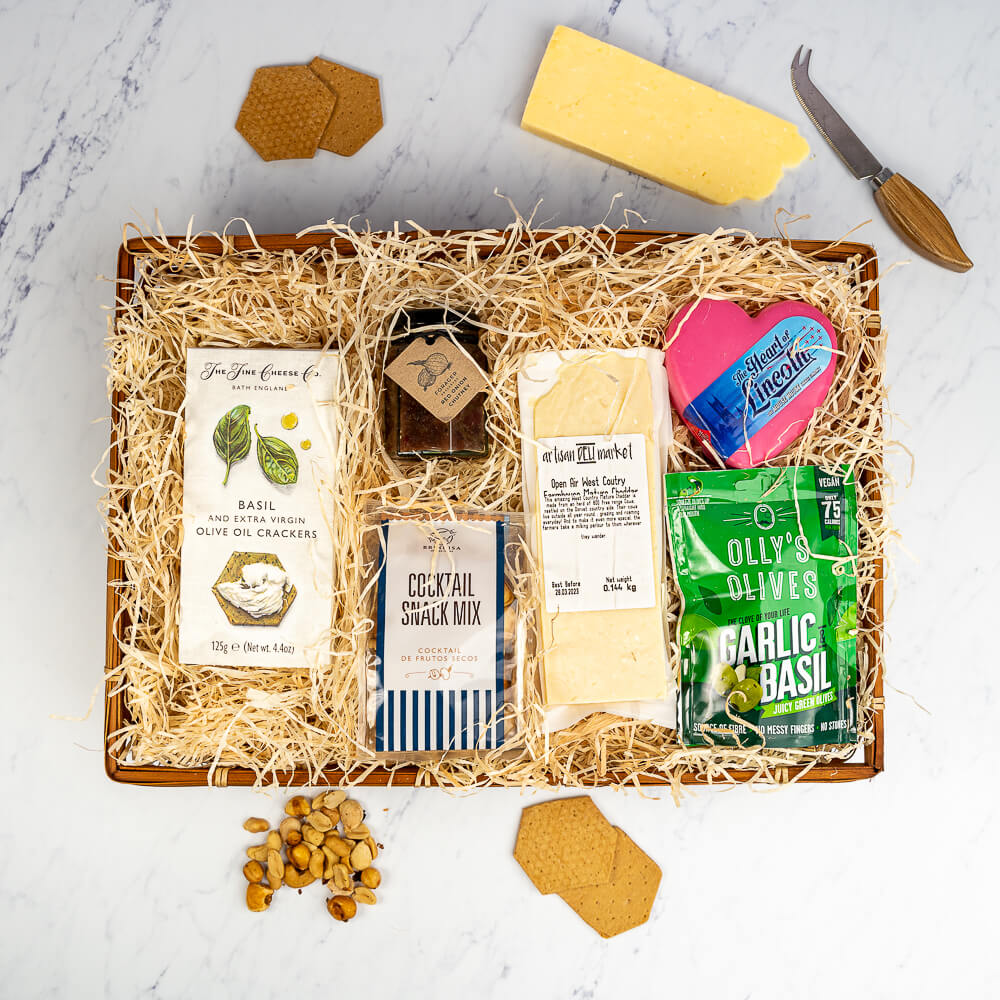 What's inside?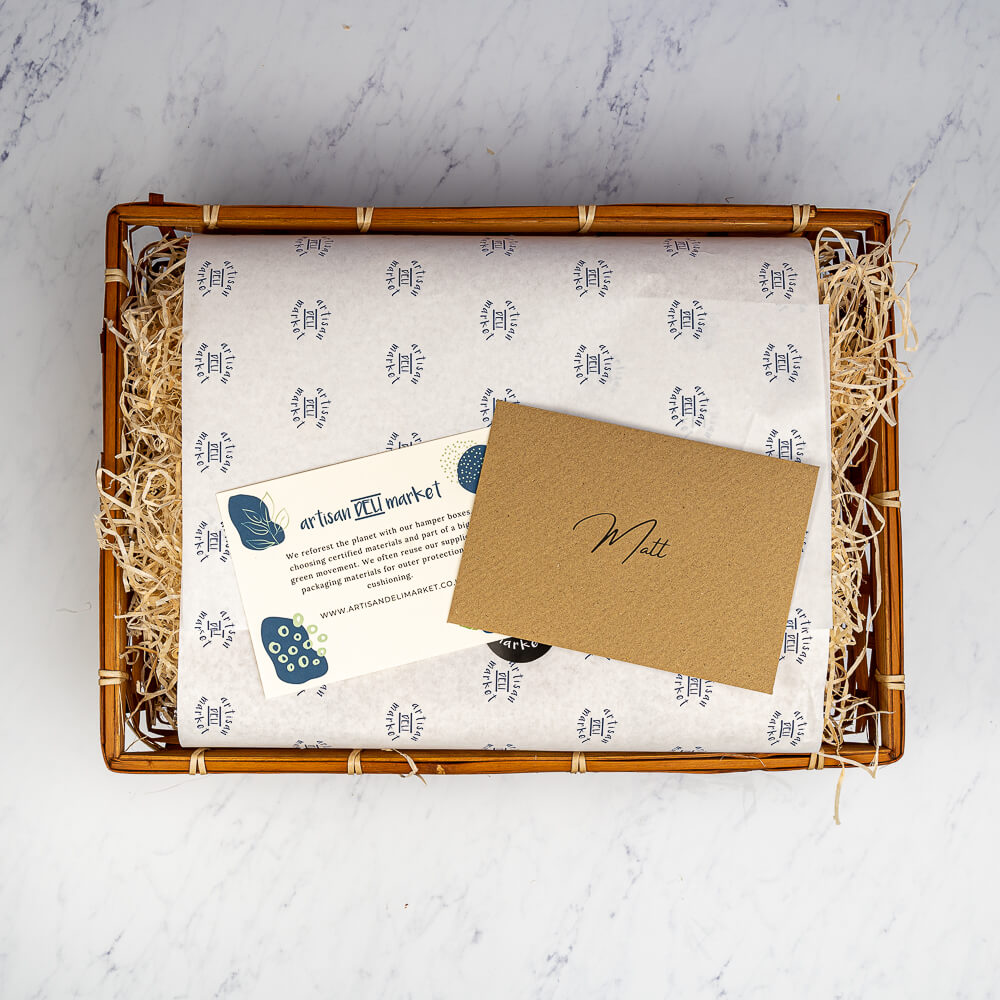 View

View

View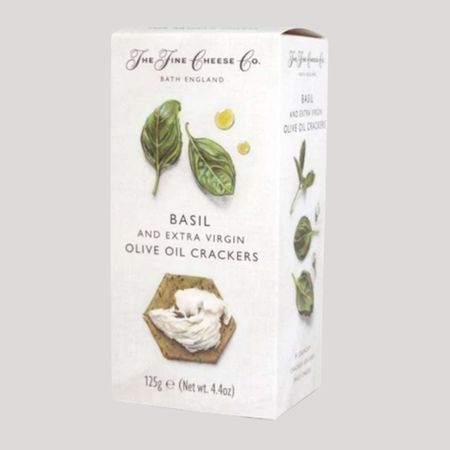 View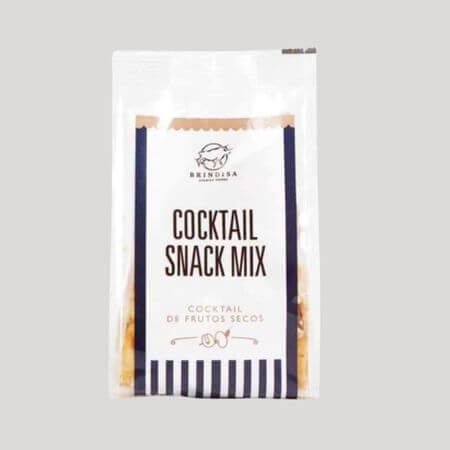 View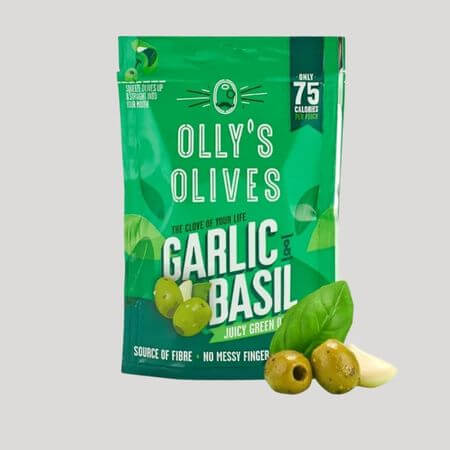 View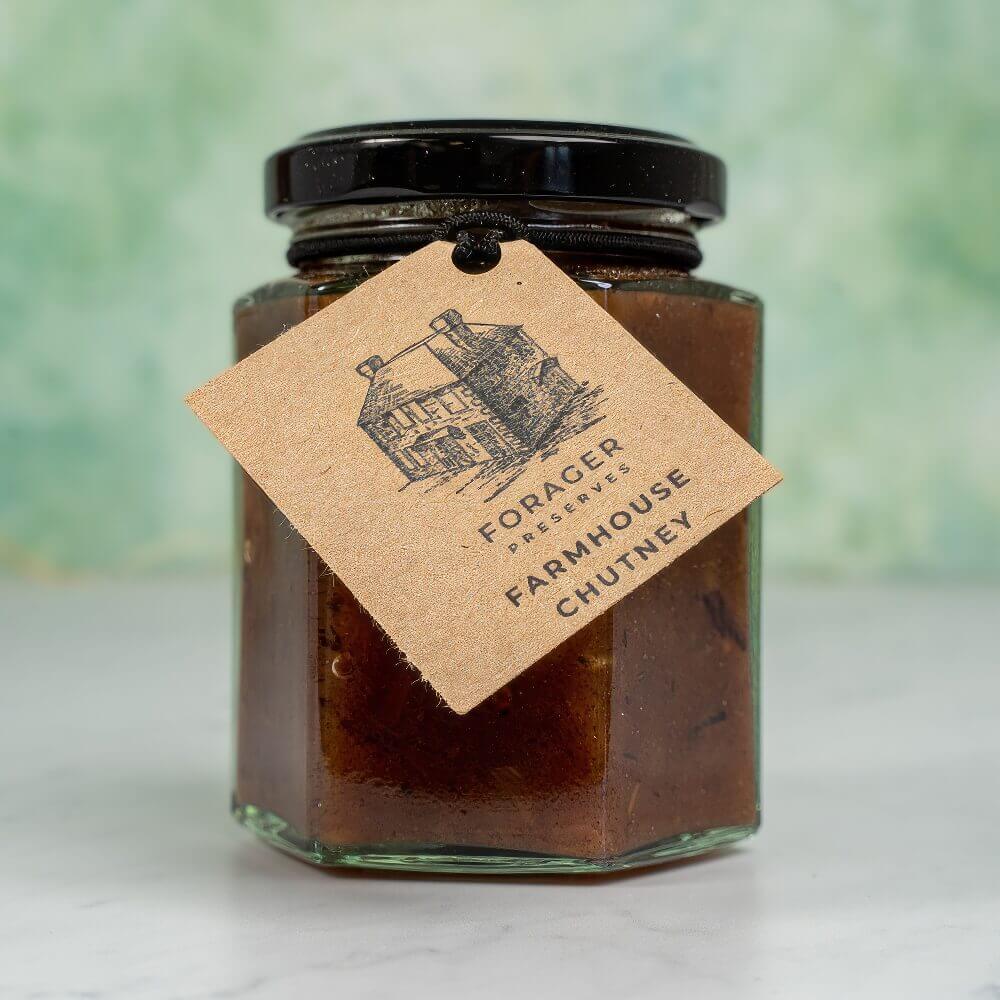 View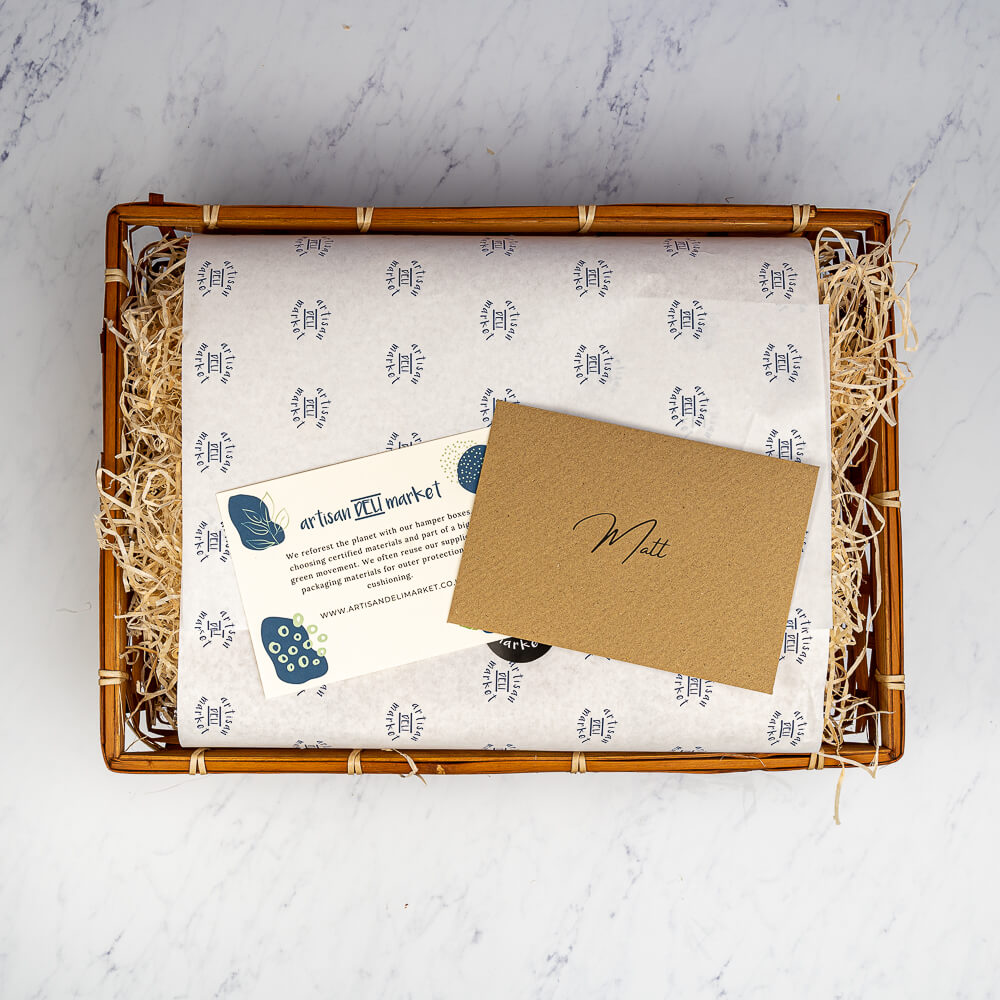 Bamboo Basket
Bamboo Basket packed with shred to create a voyage of discovery, in one of our luxury Bamboo baskets.
Ivory matte gift card with your personalised message. Secured in beautiful kraft envelope with printed recipients name.
Open Air Dairy Mature Cheddar
Freshly cut & wrapped - Weighs approximately 150g.
West Country Mature Cheddar, a delicious mature cheddar cheese made from the milk of cows that have been grazing on the open hillsides of Dorset. The secret of this beautiful cheese lies in the slow ageing process and the locally sourced ingredients. The local cows roam freely on open grass - happy cows make perfect cheese.
Heart of Lincoln 200g
Product Details
Nutritional Information
This 2 year old creamy mature cheddar really is a great addition on any cheese board, but also makes a wonderful token gift for a loved one.
Made By: Mouse House Cheese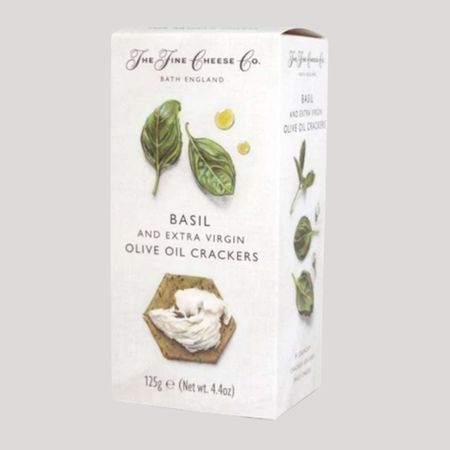 Basil and Extra Virgin Olive Oil Crackers 125g
Product Details
Nutritional Information
Made By: The Fine Cheese Co.
A crunchy cracker for any mild cheese, delicately flavoured with basil.
Ingredients: Wheat Flour, Extra Virgin Olive Oil, Autolysed Yeast, Dried Basil, Sea Salt, Spinach Flakes, Sodium Bicarbonate (Raising Agent), Natural Flavouring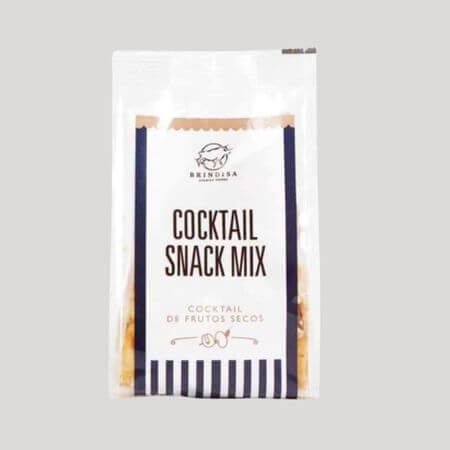 Brindisa Cocktail Snack Mix 115g
Outstanding mix of high-quality, additive-free, deep fried and salted Marcona almonds, cashews, peanuts, maize kernels and roasted Reus hazelnuts.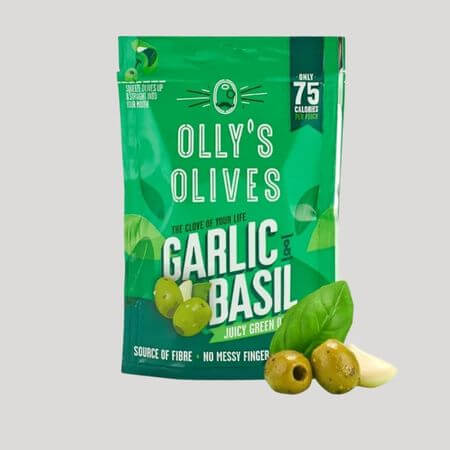 Garlic & Basil Olives 50g
Product Details
Nutritional Information
Made By: OLLYS

Greek Halkidiki olives dressed in a classic garlic & basil marinade. Our precision pouches provide a hassle-free snack experience for all olive lovers; with no stones, no messy oils and no artificials whatsoever. We're all vegan too!
Ingredients: Green Olives, Sunflower Oil, Salt, Garlic, Extra Virgin Olive Oil, Basil, Garlic Powder.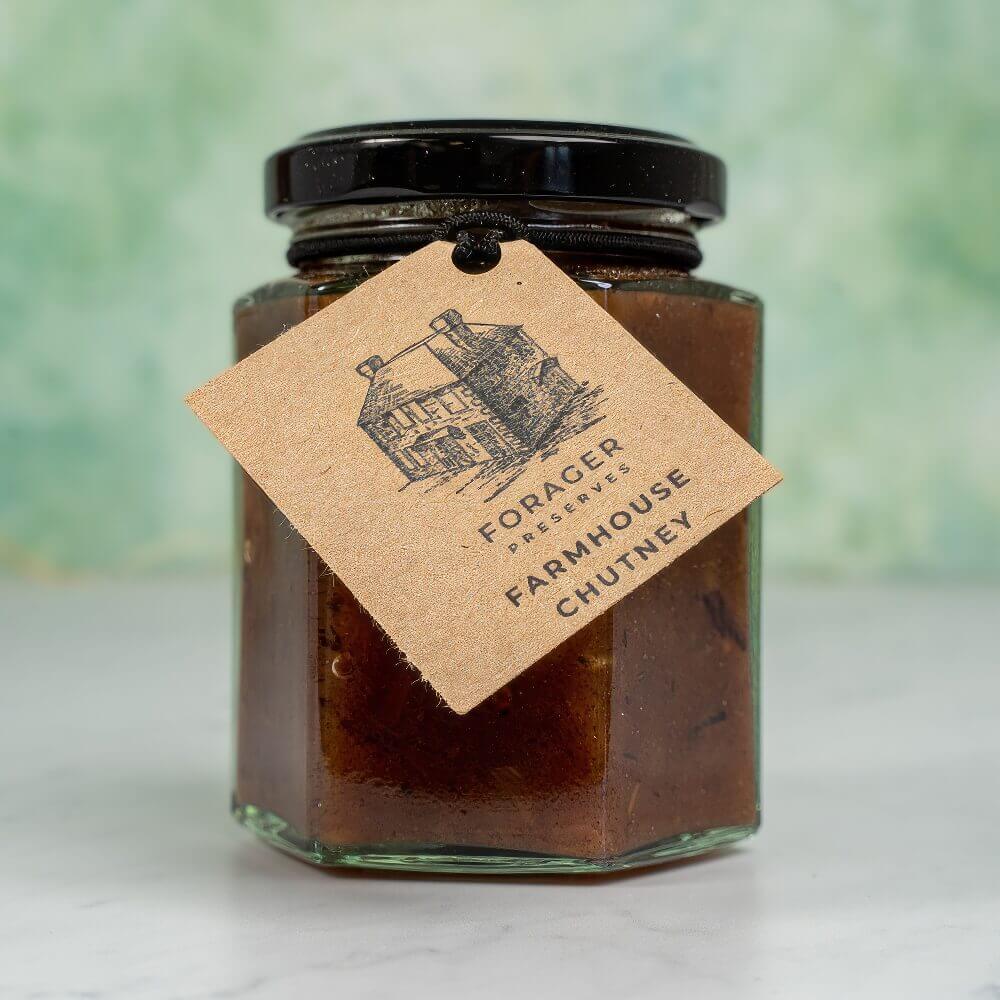 Farmhouse Chutney
Product Details
Nutritional Information
Made by: Forager Preserves 115g
Experience the delightful combination of flavors in our Farmhouse Chutney. Made with a carefully balanced blend of apples, onions, and malt vinegar (with gluten from barley), this chutney offers a harmonious interplay of sweetness and tanginess.
Forager Preserves is built around the philosophy that food tastes better when it's made by hand. Handmade without the need for pectin, each batch of our preserves is expertly made in small batches so our ingredients shine through.
Apples (32.6%), Onion (24.4%), Malt Vinegar (Gluten from Barley), Brown Sugar, Dates (Sulphites)
Suitable for Vegetarians and Vegans.
100% Luxury Guaranteed - Only the finest food and drinks, handpicked for quality.
The Magic of Our Hampers
We foster direct relationships with our artisan food producers: from the cheese maker meticulously crafting each wheel, to the chocolatier who pours passion into every piece, the devoted couple perfecting their chutney, and the small-scale baker bringing handmade scones to life.
Leave a Lasting Impression: Create Your Own Hamper Now.