Why not create your own hamper from scratch?
Regular price
Sale price
£79.95
Unit price
per
Featured
Sold out
Fresh Food Hampers

For hampers with perishable items, we provide overnight delivery with eco-friendly ice packs to ensure freshness. Ensure someone is available for receipt.

Non-perishable hampers also have overnight delivery, but immediate opening isn't necessary. See delivery options at checkout for details.
Why Our Hampers?

Each hamper is a testament to the art of small-batch production, where every detail matters. At Artisan Deli Market, we're dedicated to spotlighting the finest artisanal creations

Direct Relationships: Our commitment is to authenticity. By forming close ties with small-scale artisan producers, we guarantee genuine flavors and the pinnacle of culinary craftsmanship.

Artisanal Selection: From the cheese maker perfecting each batch in the English countryside to the chocolatier crafting chocolates by hand, our hampers are a celebration of artisanal Europe.

The Ideal Gift: Be it a festive occasion, a heartfelt gesture, or a spontaneous surprise – gifting our hampers means sharing a unique gourmet experience, crafted with love and care.

Eco-Conscious Elegance: While our focus is on gourmet excellence, we never overlook our environmental responsibility. Each hamper is thoughtfully packaged, ensuring sustainability meets sophistication.

Share the essence of small-batch artistry with a hamper that tells a story in every bite.
Delivery

At Artisan Deli Market, we offer the following delivery options:

Standard Delivery - £5.95
Our standard delivery service delivers your hamper within 1-3 working days from your selected delivery date on the calendar function at checkout.
Named Weekday Delivery - £7.95
Choose our named weekday delivery option and select a specific weekday for your hamper to be delivered, making it easier for you to plan ahead.
Weekend Delivery - £10.95
For those who require weekend delivery, we offer this option for your convenience.

Use our calendar function at checkout to select a delivery date that works best for you. If you're purchasing multiple hampers, you'll have the flexibility to choose a different delivery date and address for each one. Order with ease and let us take care of the rest.
What's inside?
Indulge in a gourmet experience with The Cheese & Charcuterie Lovers Hamper. This beautifully presented wicker basket is filled with an assortment of artisanal meats and cheeses that will tantalise your taste buds. From succulent salami and air-dried pork to creamy cheeses and delightful accompaniments, each item in this curated selection is crafted with care to provide a delightful feast for cheese and charcuterie enthusiasts. Whether you're treating yourself or looking for the perfect gift, this hamper is sure to impress with its quality and variety of flavours.
View full details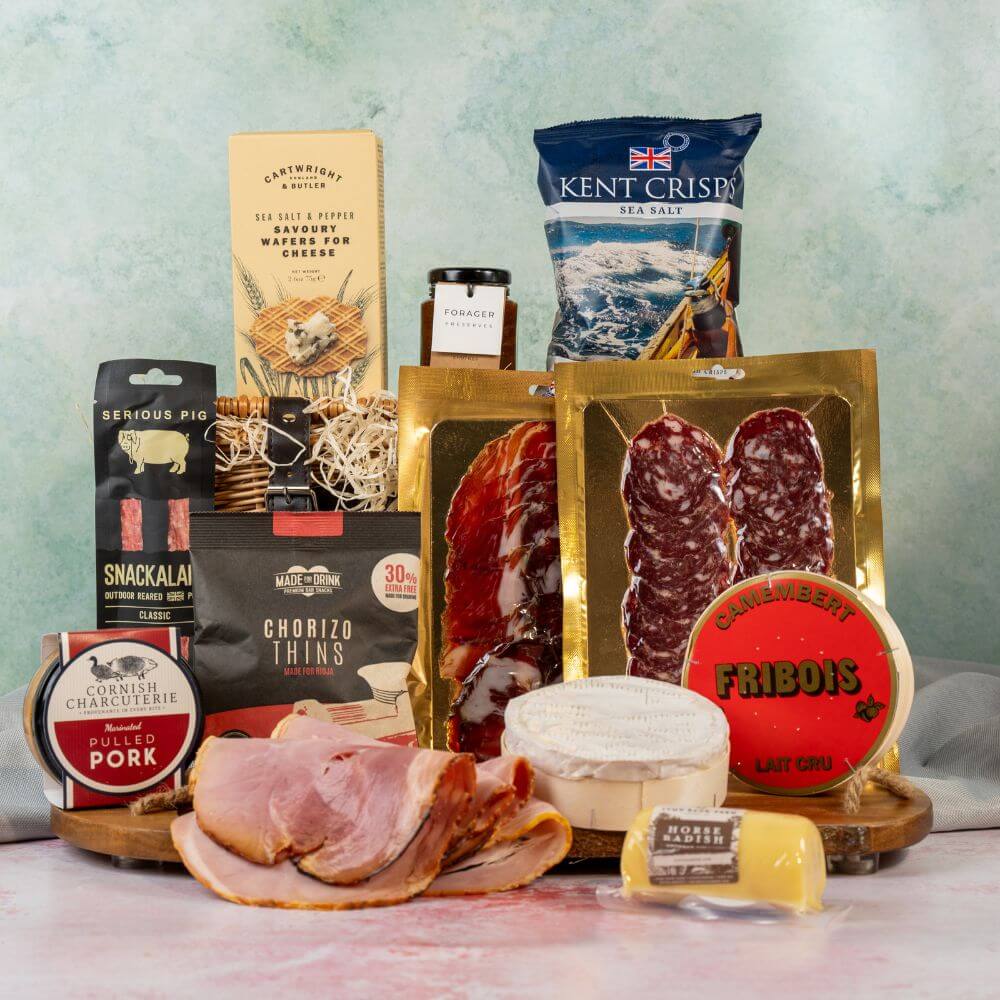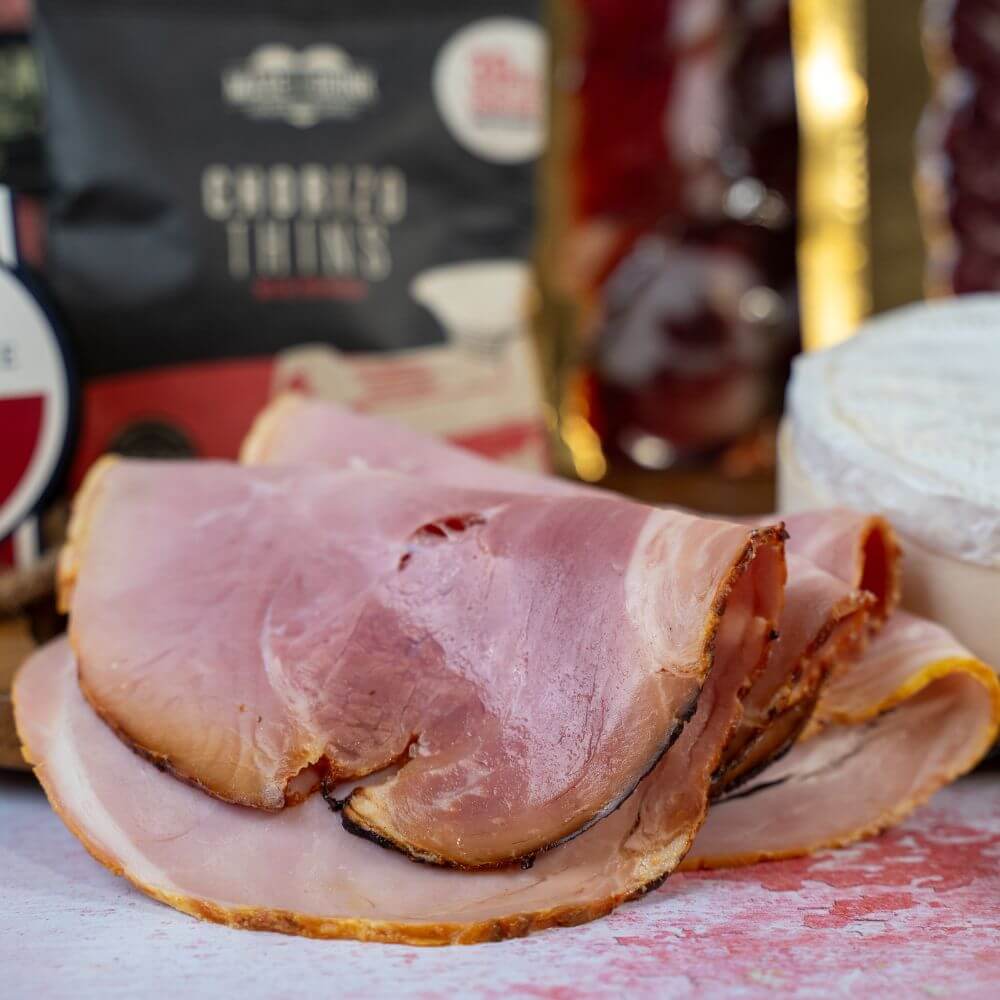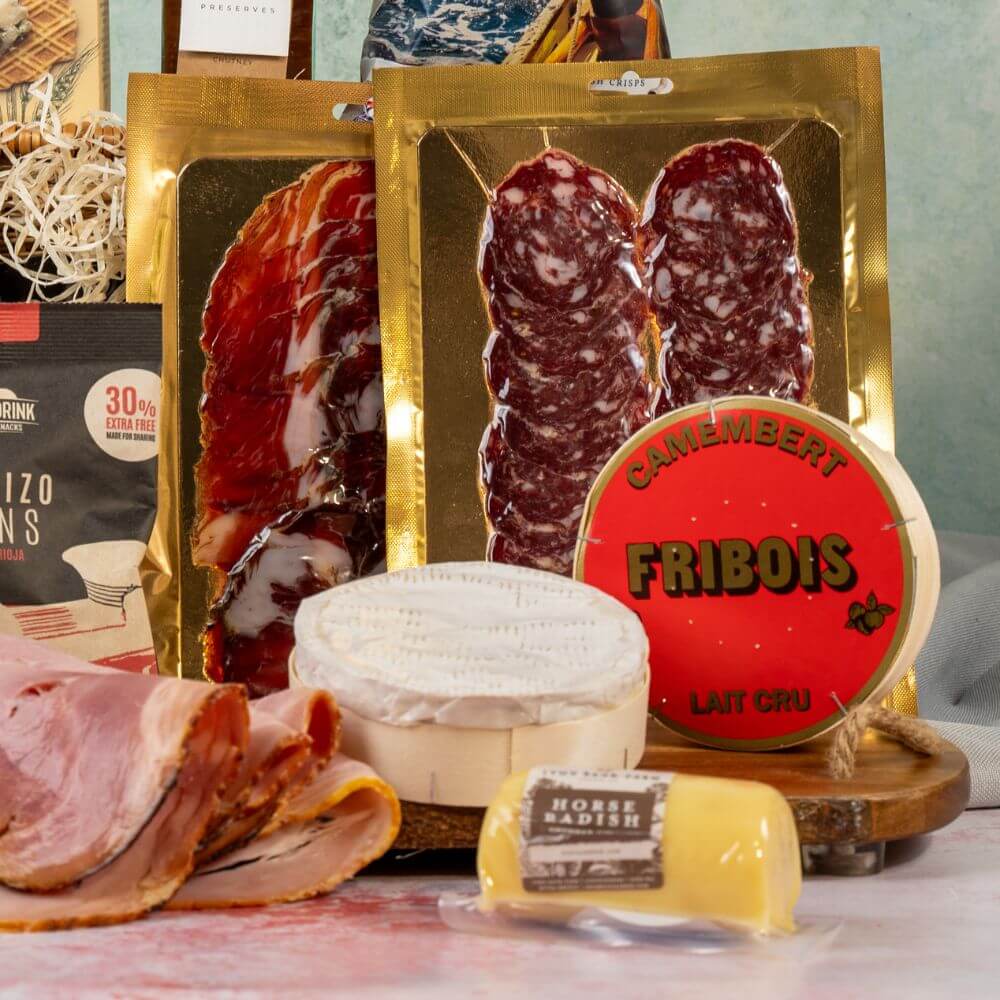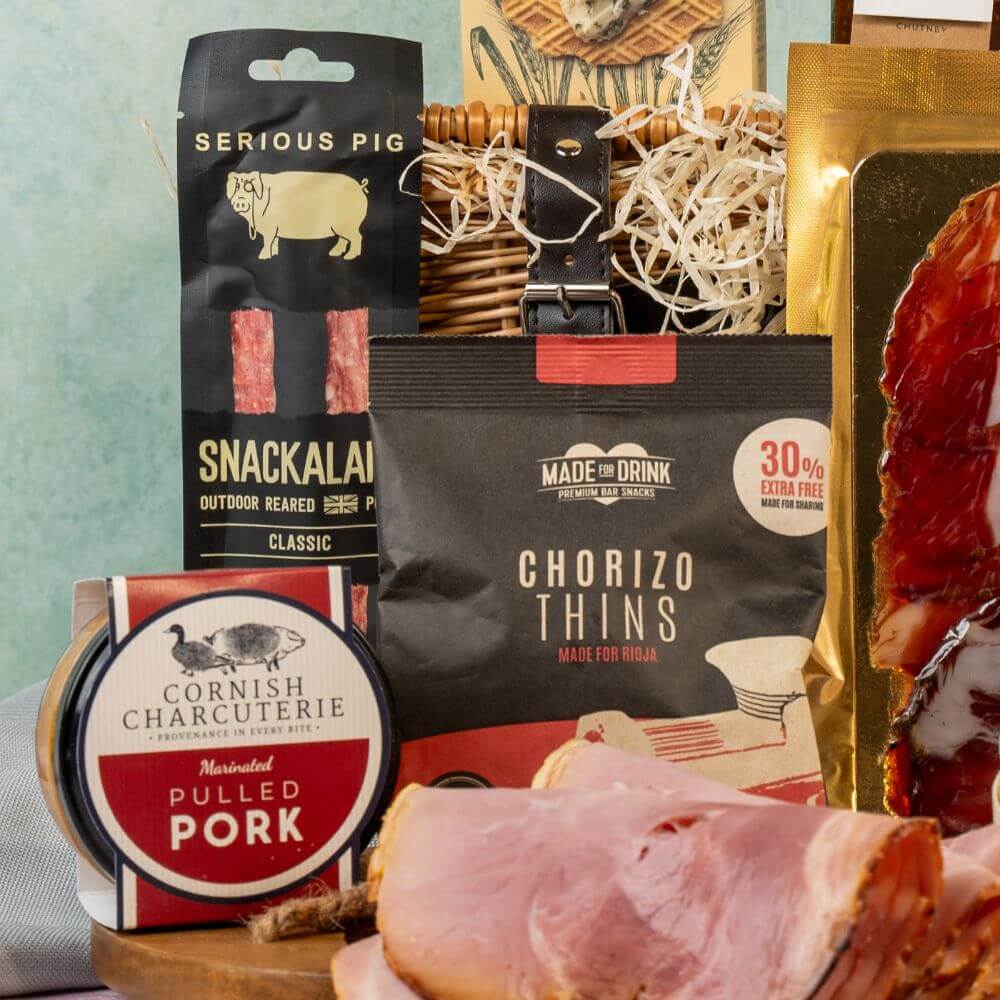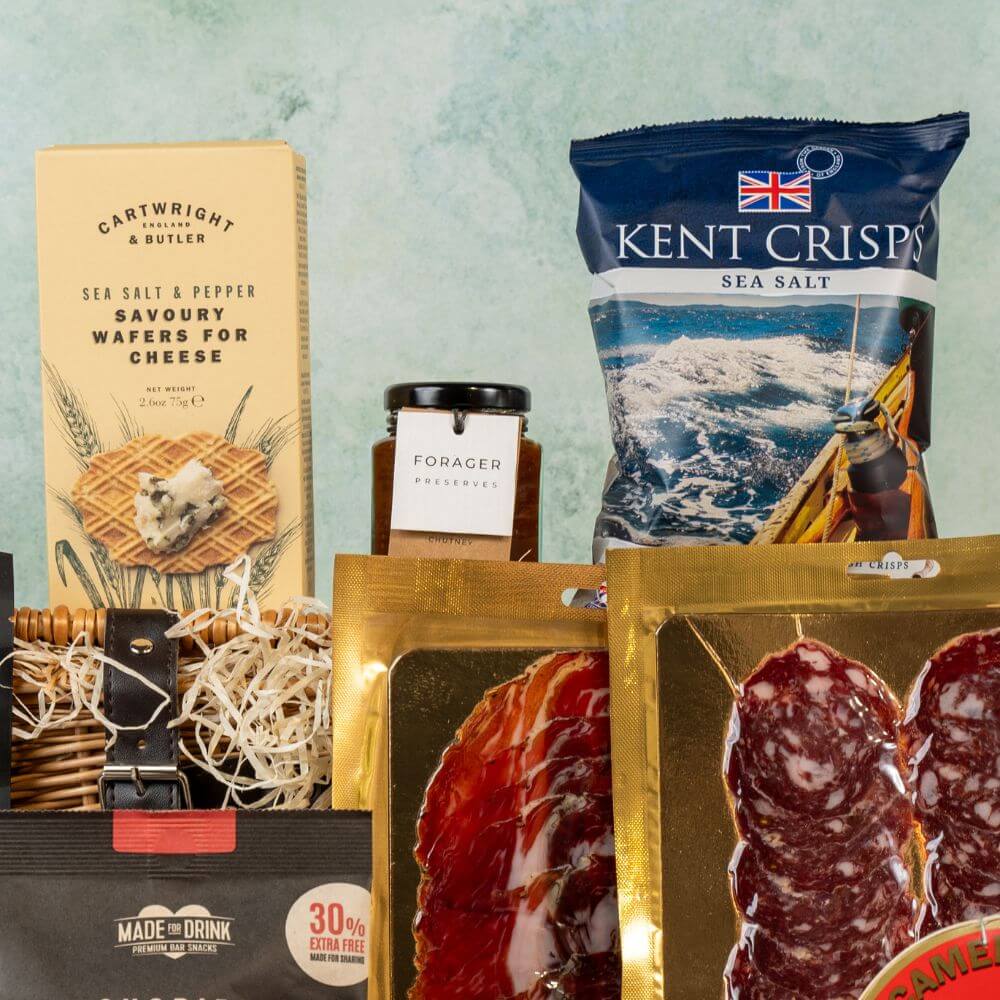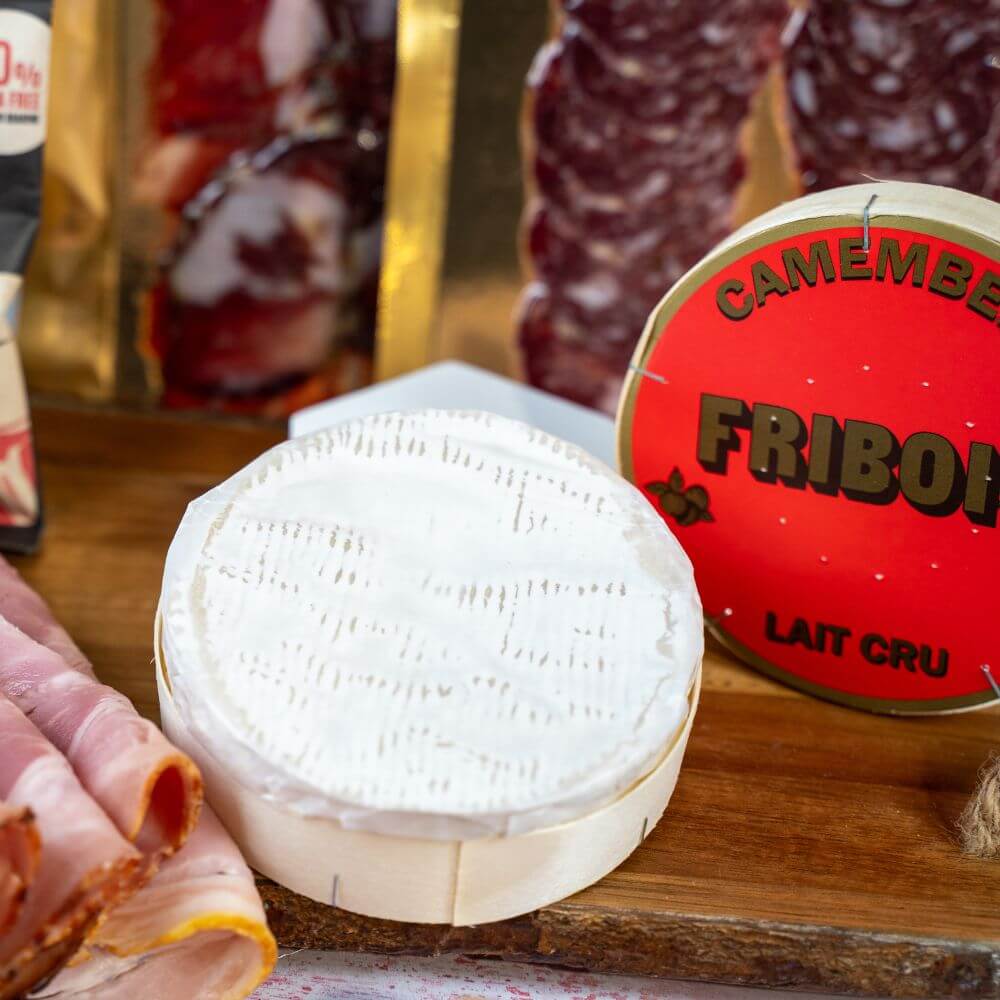 What's inside?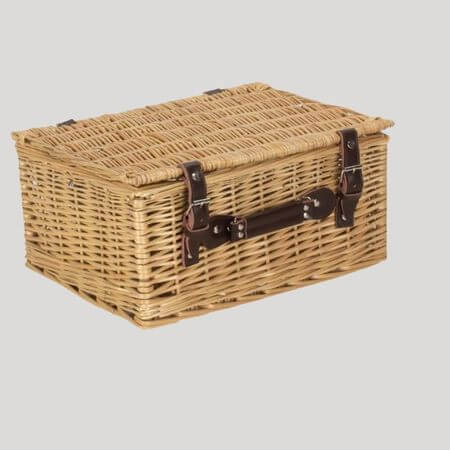 View

View

View

View

View

View

View

View

View

View

View

View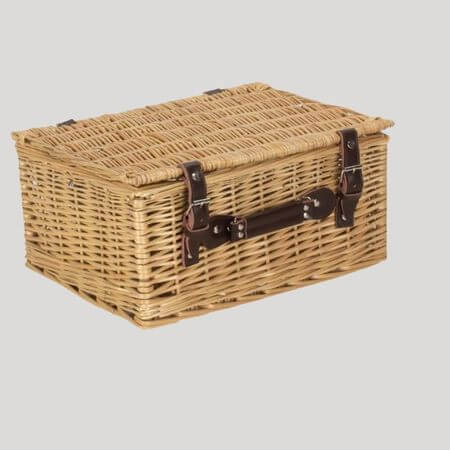 Willow Wicker Basket 14"
16" Packed with shred to create a voyage of discovery, in one of our signature Artisan Deli Market Willow wicker hampers. Ivory matte gift card with your personalised message. Secured in beautiful kraft envelope with printed recipients name.

Fennel Salami 60g
Discover the rich and savoury flavours of The Fennel Salami.
Our expert charcutiers start by carefully selecting prime cuts of pork from British farms that follow the highest ethical and animal welfare standards. The pork is then seasoned with a blend of aromatic herbs and spices, before being slowly cured and aged to develop its distinctive depth of flavour.
Air-dried Pork Shoulder Coppa 60g
Introducing our Air-dried Pork Shoulder Coppa, crafted with care and expertise using the finest British pork. Our artisanal process involves carefully trimming and seasoning the pork shoulder with a blend of traditional British herbs and spices, before air-drying it for several weeks to develop its complex, rich flavour.
The result is a succulent and tender coppa that's perfect for any charcuterie board, sandwich or salad. Each slice reveals a marbled texture and deep, earthy notes that evoke the lush countryside of Great Britain.
We take pride in sourcing our meat from trusted British farms that raise their animals with respect and care, ensuring the highest quality and ethical standards. We believe in supporting local agriculture and promoting sustainable practices, while delivering a premium product that showcases the best of British cuisine.
Chorizo Thins 30g
Product Details
Nutritional Information
We simply slice the Chorizo into rounds and gently roast it until it's crisp and delicious with no greasy residue.
Ingredients: Duroc pork shoulder, pork belly, hot paprika del la vera, salt, garlic.


Snackalami 'Classic' 30g
Product Details
Nutritional Information
Two sticks of meaty, peppery and seriously delicious snacking salami, made with Outdoor Reared British pork.
Made By: Serious Pig
Ingredients: British Pork, Salt, Dextrose, Spices (White Pepper, Ground Coriander, Garlic, Black Pepper) Preservatives (Sodium Nitrite).
Sea Salt & Pepper Savoury Wafers 75g
Product Details
Nutritional Information
Light cheese wafers but with the added twist of cracked black pepper and a sprinkle of sea salt.
Made By: Cartwright & Butler
Ingredients: Wheat Flour, Vegetable Margarine (Responsibly Sourced Palm Fat, Water, Emulsifier: E471 (Mono and Diglycerides From Fatty Acids), Acidity Regulator: Citric Acid), Maltodextrin (From Corn), Salt, MILK Powder, Raising Agent: Sodium Bicarbonate, Ammonium Bicarbonate; EGG Powder, Pepper, soya Flour.
Camembert Fribois 240g
Savor the exquisite taste of Camembert Fribois, a delicacy straight from Saint-Loup de Fribois, Normandy. This 240g wedge of indulgence is crafted from unpasteurized cow's milk, offering an irresistibly creamy texture that melts your heart with every bite. A symphony of rich, full-bodied flavors leaves a sublime salty impression, enticing your taste buds to crave more. Unleash its full potential by baking it to a gooey perfection, then serve with a drizzle of tantalizing truffle honey, complementing the robust cheese with a sweet note. Pair with warm, freshly baked bread for an unparalleled culinary experience.
Pulled Pork 125g
Dingley Dell Smoked Traditional Wiltshire Cure Sliced Ham 250g
Chilli Jam
Product Details
Nutritional Information
Made by: Forager Preserves 115g
Our delicious Chilli Chutney is an essential addition to any store cupboard! It's the perfect accompaniment to cheese, with a vibrant zing and texture that you won't be able to resist. Bursting with flavour and sure to delight, this chutney won't disappoint!
Forager Preserves is built around the philosophy that food tastes better when it's made by hand. Handmade without the need for pectin, each batch of our preserves is expertly made in small batches so our ingredients shine throug
Tomatoes (44.9%), Red Peppers (22.5%), Brown Sugar, Red Wine Vinegar (Sulphites), Ginger, Chillies (1.53%), Garlic Powder (Sulphites).
Suitable for Vegetarians and Vegans.
Sea Salt Kent Crisps 40g
Product Details
Nutritional Information
Made By: Kent Crisps
Delicately flavoured with natural sea salt, allowing the taste of our Great British potatoes to shine through.
Suitable for Vegetarians and Vegans
Gluten free
Dairy Free
No artificial colours or added MSG
Hand cooked
Ingredients
Potatoes, Sunflower oil, Sea salt.
Allergens stated in BOLD.
100% Luxury Guaranteed - Only the finest food and drinks, handpicked for quality.
The Magic of Our Hampers
We foster direct relationships with our artisan food producers: from the cheese maker meticulously crafting each wheel, to the chocolatier who pours passion into every piece, the devoted couple perfecting their chutney, and the small-scale baker bringing handmade scones to life.
Leave a Lasting Impression: Create Your Own Hamper Now.