Why not create your own hamper from scratch?
Regular price
Sale price
£29.00
Unit price
per
Featured
Sold out
Fresh Food Hampers

For hampers with perishable items, we provide overnight delivery with eco-friendly ice packs to ensure freshness. Ensure someone is available for receipt.

Non-perishable hampers also have overnight delivery, but immediate opening isn't necessary. See delivery options at checkout for details.
Why Our Hampers?

Each hamper is a testament to the art of small-batch production, where every detail matters. At Artisan Deli Market, we're dedicated to spotlighting the finest artisanal creations

Direct Relationships: Our commitment is to authenticity. By forming close ties with small-scale artisan producers, we guarantee genuine flavors and the pinnacle of culinary craftsmanship.

Artisanal Selection: From the cheese maker perfecting each batch in the English countryside to the chocolatier crafting chocolates by hand, our hampers are a celebration of artisanal Europe.

The Ideal Gift: Be it a festive occasion, a heartfelt gesture, or a spontaneous surprise – gifting our hampers means sharing a unique gourmet experience, crafted with love and care.

Eco-Conscious Elegance: While our focus is on gourmet excellence, we never overlook our environmental responsibility. Each hamper is thoughtfully packaged, ensuring sustainability meets sophistication.

Share the essence of small-batch artistry with a hamper that tells a story in every bite.
Delivery

At Artisan Deli Market, we offer the following delivery options:

Standard Delivery - £5.95
Our standard delivery service delivers your hamper within 1-3 working days from your selected delivery date on the calendar function at checkout.
Named Weekday Delivery - £7.95
Choose our named weekday delivery option and select a specific weekday for your hamper to be delivered, making it easier for you to plan ahead.
Weekend Delivery - £10.95
For those who require weekend delivery, we offer this option for your convenience.

Use our calendar function at checkout to select a delivery date that works best for you. If you're purchasing multiple hampers, you'll have the flexibility to choose a different delivery date and address for each one. Order with ease and let us take care of the rest.
Celebrate the season with our Festive Sweets Bundle—an assortment of delightful treats to add sweetness to your festivities. From the irresistible Milk Chocolate Popcorn Bites to the charming Handmade Gingerbread Man and the traditional Mince Pies, each bite is a festive delight. Enjoy the fizzy tang of Blue Raspberry Bottles, the rich indulgence of Brownie Oat Crumbles, and the unique warmth of a Ginger Blondie. All presented on a stylish Bamboo Tray, this bundle is a perfect way to sweeten your holiday moments.
View full details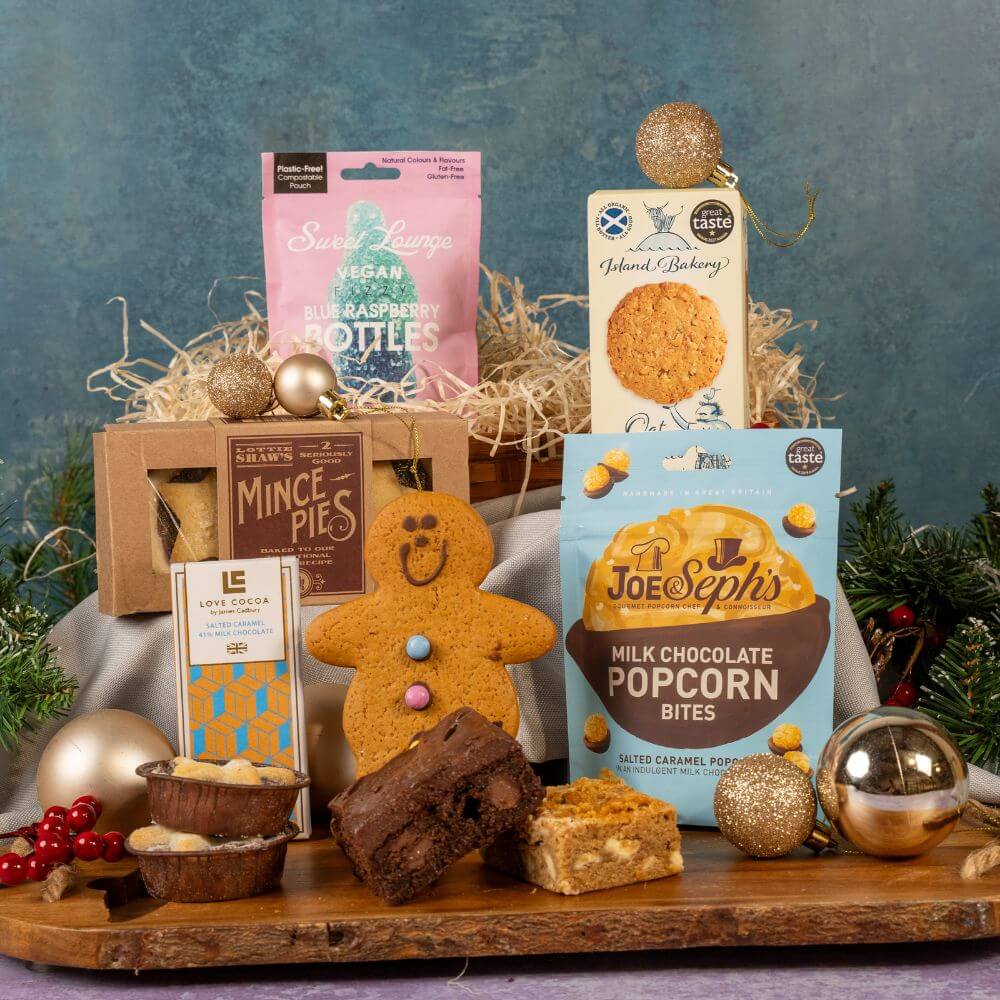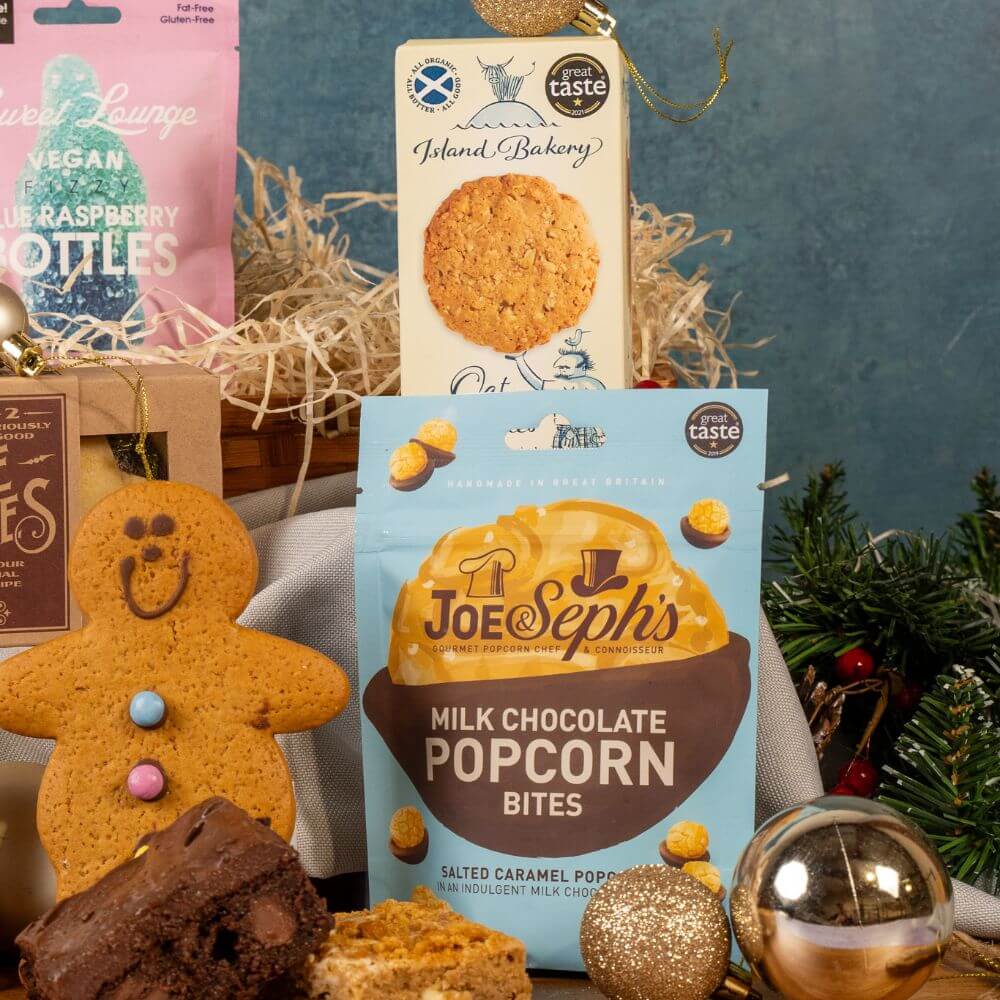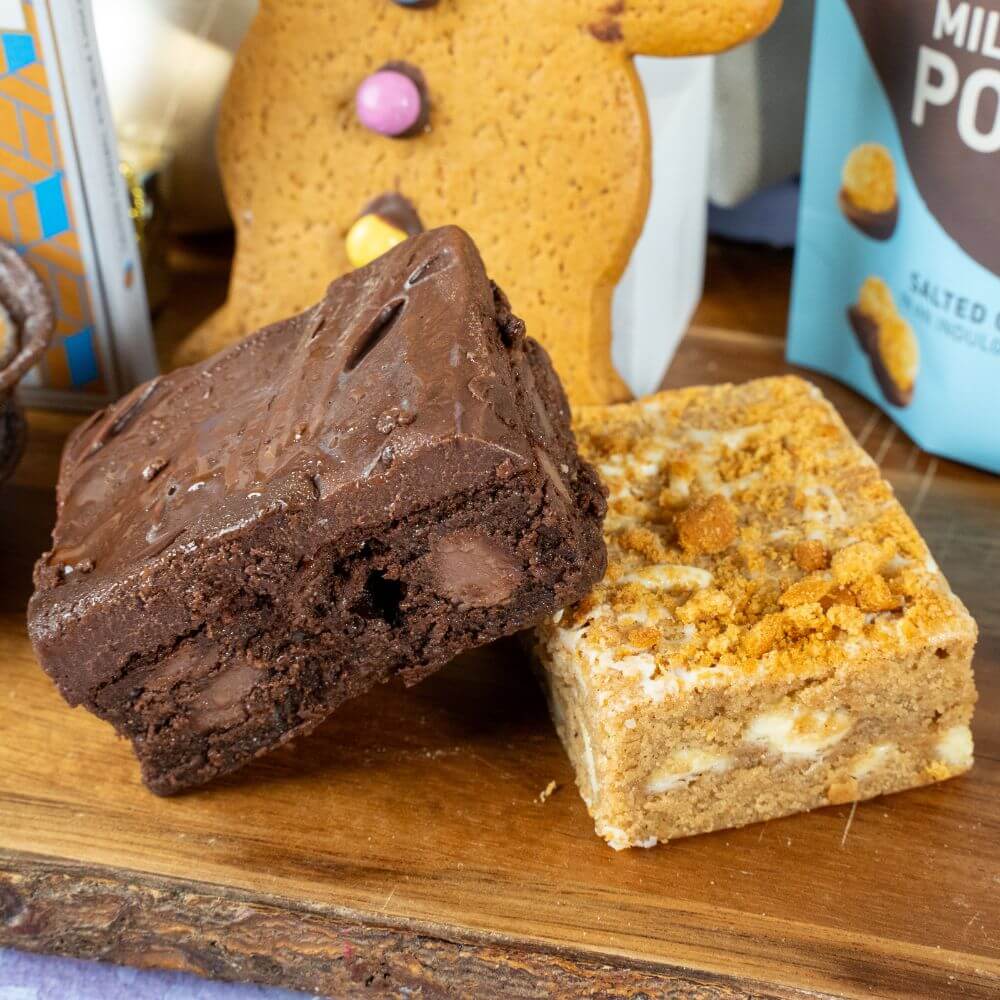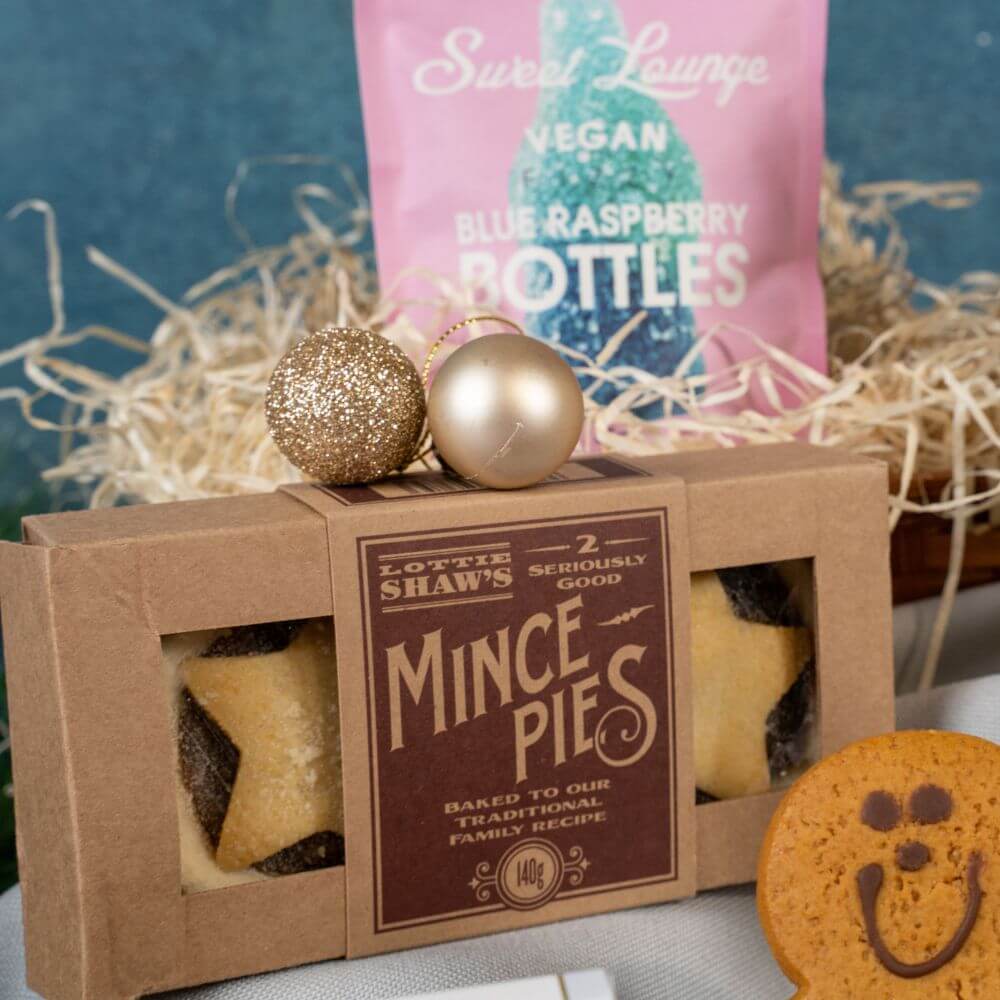 What's Inside?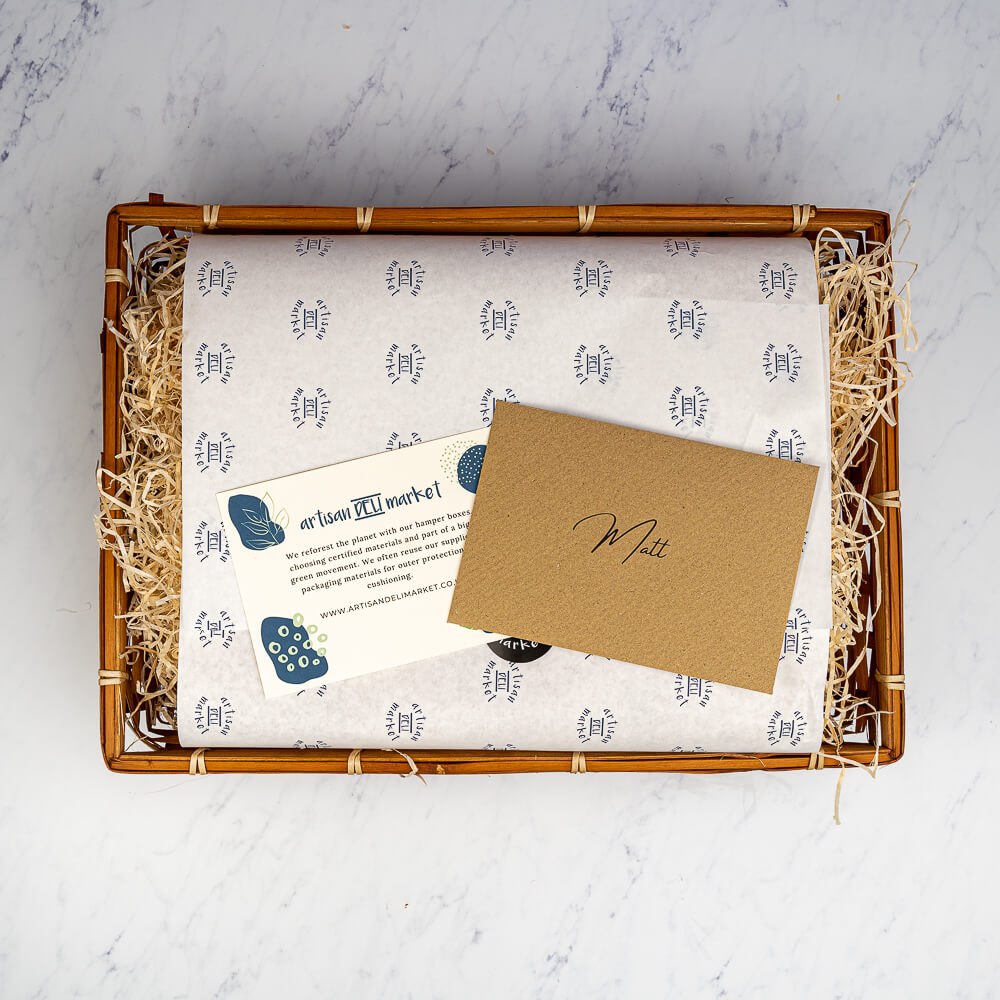 View

View

View

View

View

View

View

View

View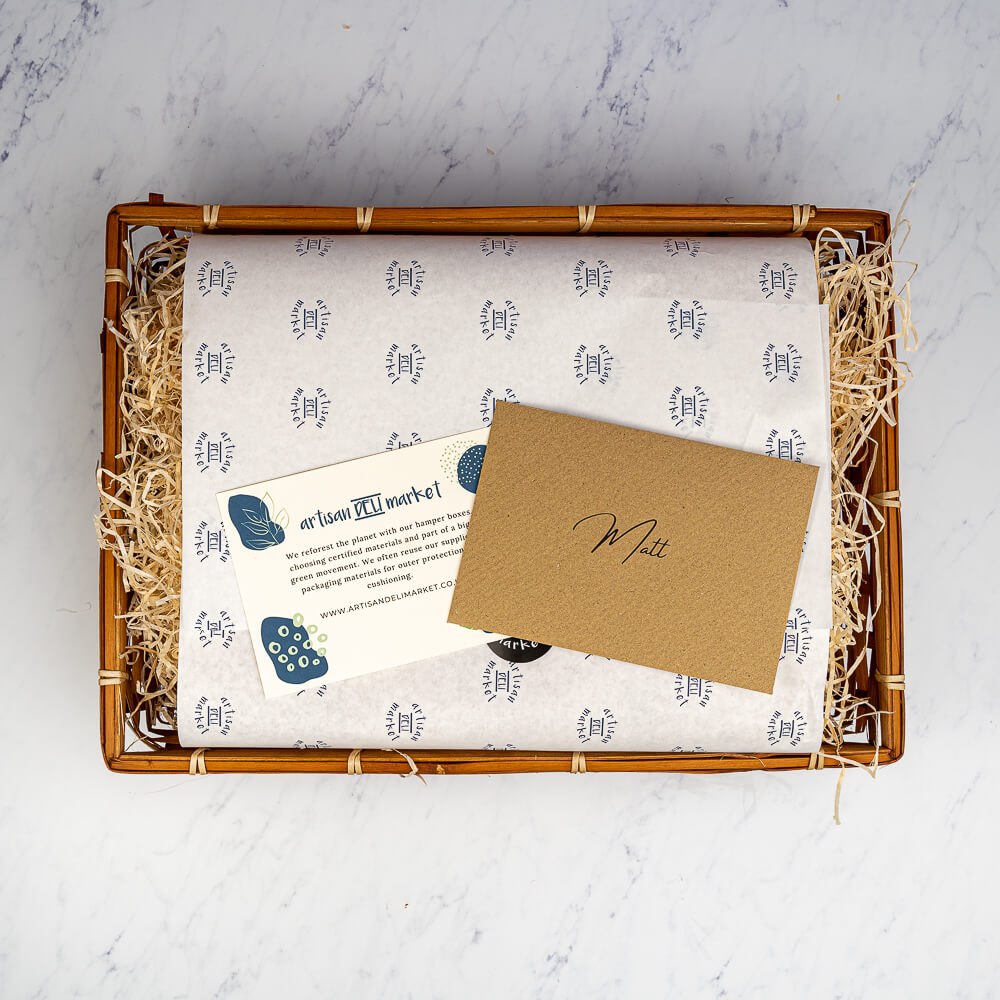 Bamboo basket
Packed with shred to create a voyage of discovery, in one of our signature Artisan Deli Market gift boxes with a luxe, matte texture.
Ivory matte gift card with your personalised message. Secured in beautiful kraft envelope with printed recipients name.
Milk Chocolate Popcorn Bites 27g
Product Details
Nutritional Information
made by: JoeSephs popcorn
Our yummy popcorn is light and crunchy, made through air-popping instead of frying. A talented bunch of pastry chefs in our London Kitchens add a delightful salted caramel coating then top it off with a smooth milk chocolate.
Ingredients: Milk Chocolate (77%) [Sugar, Whole Milk Powder, Cocoa Powder, Cocoa Mass, Emulsifier (Soya Lecithin), Natural Vanilla Flavouring], Salted Caramel Popcorn (23%) [Corn, Sugar, Butter (Milk), Corn Syrup, Sea Salt]. Milk Chocolate contains cocoa solids 37% minimum, milk solids 19% minimum.
Handmade Gingerbread Man 50g
Our gingerbread is baked to our traditional family recipe and cut into the shape of a man and decorated with smarties.
Two Traditional Mince Pies
Our mince pies have the perfect balance of luxury mincemeat to sweet pastry.
Our small recyclable box holds 2 mince pies. Mince pies are available throughout the festive period.
We were delighted that they featured in The Independent's Best Mince Pie Review, here is what they had to say:

"You could easily get away with pretending you made these yourself, which should not be surprising when you consider that the whole premise of this brand is baking like Grandma used to. These mouth-watering, pies are a decent size with thick and moreish pastry and a good dollop of tangy, mincemeat, so you shouldn't feel too short changed."
Our mince pies are naturally Vegan and Dairy Free
Fizzy Blue Raspberry Bottles 65g
Product Details
Nutritional Information
Made by: Sweet lounge.
These Vegan Fizzy Blue Raspberry Bottles are deliciously moreish and hard to share, perfect for a delicious sweet fix!
Ingredients: Sugar, glucose syrup, invert sugar syrup, sorbitol, gelling agent: pectin; fruit juice concentrate: apple; acid: citric acid; acid regulator: trisodium citrate, natural flavours; colours: spirulina concentrate, turmeric, black carrot concentrate.
Gingerbread Blondie
Product Details
Nutritional Information
Made For: Artisan Deli Market.
Introducing our Ginger-Infused Blondie, a delectable twist on the classic blondie. Immerse your senses in the warmth and spiciness of real ginger, perfectly harmonising with the buttery, vanilla goodness of our blondie. Each bite delivers a symphony of flavours, creating a uniquely satisfying and irresistible treat. Elevate your dessert experience with the perfect balance of sweet and spice. Unwrap the joy of our Ginger-Flavoured Blondie – a delightful journey for your taste buds.
Ingredients
100% British Wheat Flour 18%, (Wheat flour,calcium carbonate,iron,niacin,thiamin) Finest Belgian white chocolate (min 28% cocoa solids) 14% sugar,cocoa butter, whole milk powder,emulsifier:lecithins(soya),natural vanilla flavouring With cocoa beans grown in West-Africa Butter 13% (Milk),salt, Eggs 12% :free range,british lion quality Granulated cane sugar 9%, Light muscovado natural unrefined cane sugar 9%, Ground Ginger 2%,Cinnamon 1%, Ground Nutmeg 1%,Cornflour 1%, Ginger nut biscuits Wheat flour,Sugar,Palm OilGlucose-Fructose Syrup, Semolina,Ginger Powder,Molasses,Lemon Oil,May contain nuts, may contain peanuts Min weight 80g per slice
Produced in a kitchen that handles Nuts & Peanuts Min weight 80g Previously frozen
Chocolate Orange Brownie
Product Details
Nutritional Information
Made For: Artisan Deli Market.
The most delicious and soft Brownie, overflowing with chocolatey goodness and filled with loving flavour. Our experienced baker has lovingly crafted a delicious small batch of handmade brownies, perfect for a special occasion or for treating yourself!
Ingredients: Terry's chocolate 32%:sugar, cocoa mass, coca butter, skimmed milk powder, whey powder (from milk),vegetable fats(palm,shea) milk fat,
(soya lecithin E476)orange oil,flavouring, May contain Peanuts, Light muscovado natural unrefined cane sugar 20%, Eggs 14% : free range,british lion quality
Butter 14% (64%),(Milk),rapeseed oil,water,lactic culture (Milk),salt, Dark chocolate 11%,cocoa mass (min 70.5%) sugar,fat-reduced
cocoa powder,emulsifier:soya lecithin,natural vanilla flavouring,May contain:milk, 100% British Wheat Flour 6%,(Wheat flour,calcium carbonate,
iron,niacin,thiamin), Cocoa powder 3%,(acidity regulator E50li) , May contain nuts
MILK, GLUTEN, WHEAT, EGG, SOYA.
TRACES OF NUTS.
Oat Crumbles 135g
Product Details
Nutritional Information
Made By: Island Bakery
They are less sweet than some, yet sweet enough to satisfy a tea-time craving, and substantial enough with their jumbo oats, to keep you going for a while after.
Allergens: Wheat, milk. May contain nuts & peanuts
100% Luxury Guaranteed - Only the finest food and drinks, handpicked for quality.
The Magic of Our Hampers
We foster direct relationships with our artisan food producers: from the cheese maker meticulously crafting each wheel, to the chocolatier who pours passion into every piece, the devoted couple perfecting their chutney, and the small-scale baker bringing handmade scones to life.
Leave a Lasting Impression: Create Your Own Hamper Now.