Why not create your own hamper from scratch?
Regular price
£68.00
Sale price
£59.95
Unit price
per
Featured
Sold out
Fresh Food Hampers

For hampers with perishable items, we provide overnight delivery with eco-friendly ice packs to ensure freshness. Ensure someone is available for receipt.

Non-perishable hampers also have overnight delivery, but immediate opening isn't necessary. See delivery options at checkout for details.
Why Our Hampers?

Each hamper is a testament to the art of small-batch production, where every detail matters. At Artisan Deli Market, we're dedicated to spotlighting the finest artisanal creations

Direct Relationships: Our commitment is to authenticity. By forming close ties with small-scale artisan producers, we guarantee genuine flavors and the pinnacle of culinary craftsmanship.

Artisanal Selection: From the cheese maker perfecting each batch in the English countryside to the chocolatier crafting chocolates by hand, our hampers are a celebration of artisanal Europe.

The Ideal Gift: Be it a festive occasion, a heartfelt gesture, or a spontaneous surprise – gifting our hampers means sharing a unique gourmet experience, crafted with love and care.

Eco-Conscious Elegance: While our focus is on gourmet excellence, we never overlook our environmental responsibility. Each hamper is thoughtfully packaged, ensuring sustainability meets sophistication.

Share the essence of small-batch artistry with a hamper that tells a story in every bite.
Delivery

At Artisan Deli Market, we offer the following delivery options:

Standard Delivery - £5.95
Our standard delivery service delivers your hamper within 1-3 working days from your selected delivery date on the calendar function at checkout.
Named Weekday Delivery - £7.95
Choose our named weekday delivery option and select a specific weekday for your hamper to be delivered, making it easier for you to plan ahead.
Weekend Delivery - £10.95
For those who require weekend delivery, we offer this option for your convenience.

Use our calendar function at checkout to select a delivery date that works best for you. If you're purchasing multiple hampers, you'll have the flexibility to choose a different delivery date and address for each one. Order with ease and let us take care of the rest.
Our fabulous craft beer and pub snacks hamper basket is sure to please. It has nine craft beer, plus a wealth of munchies including crunchy cheddar crumbles, salami chips, chicken crackling and much more. Send this fantastic gift to your
favourite
beer enthusiast as a thank you or just because they deserve it!
View full details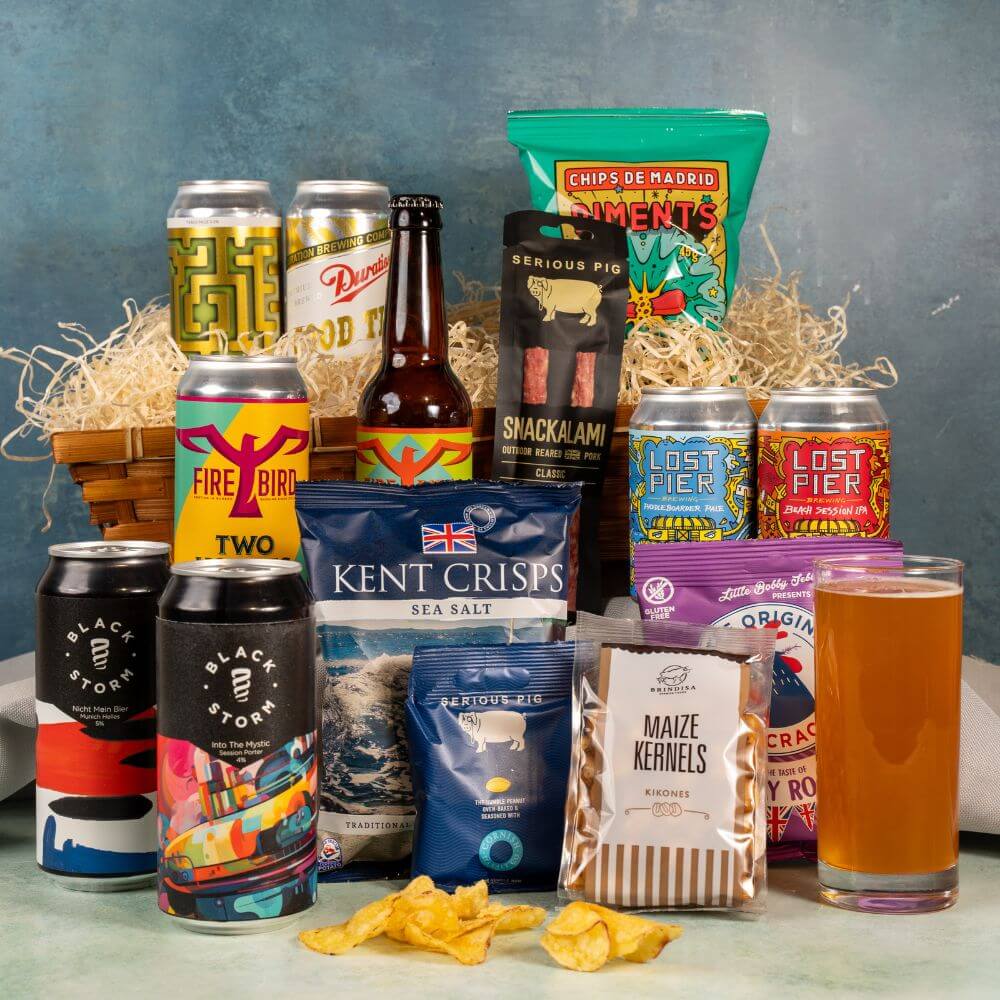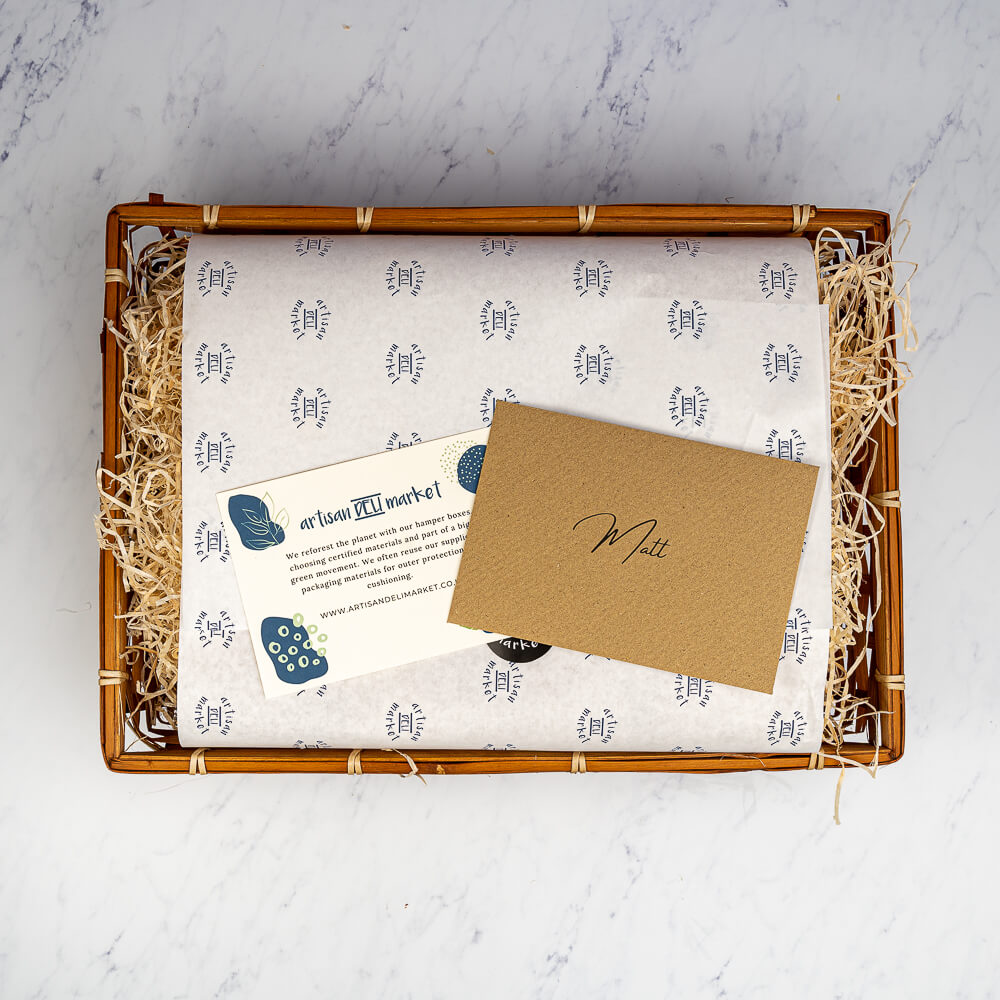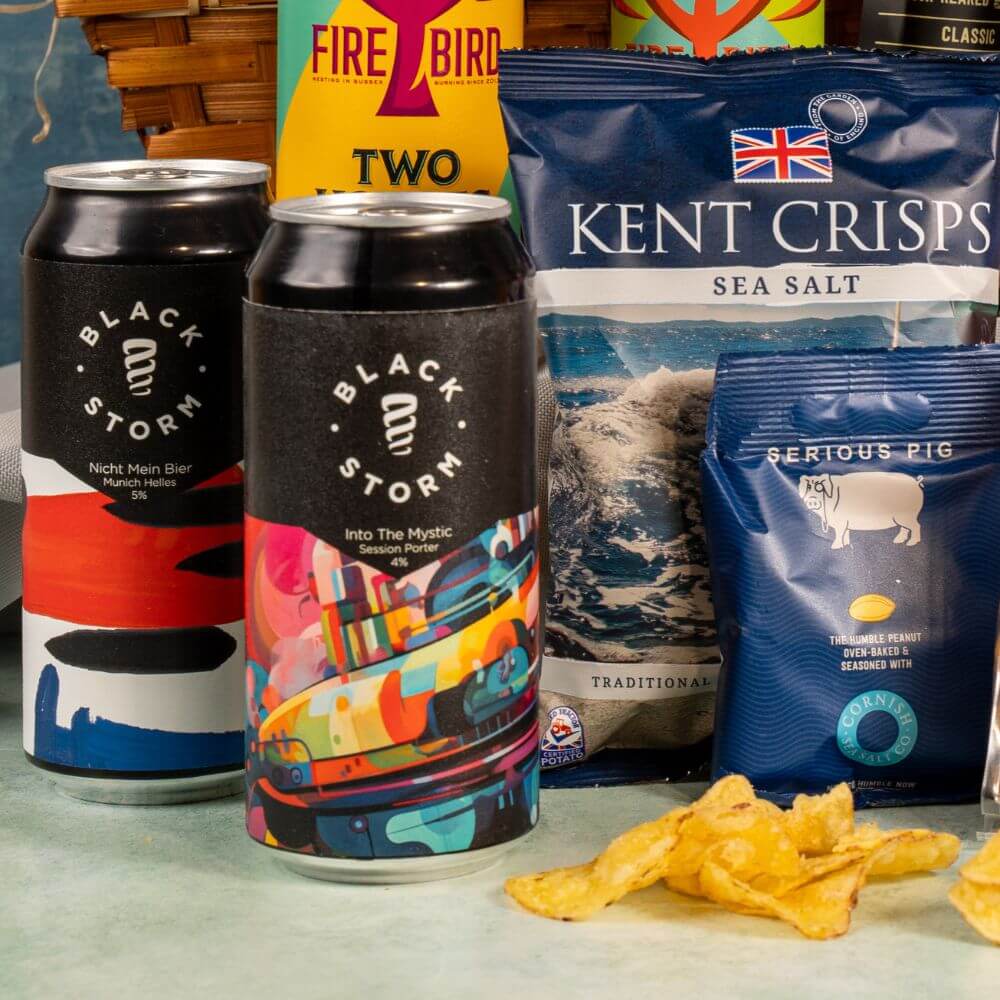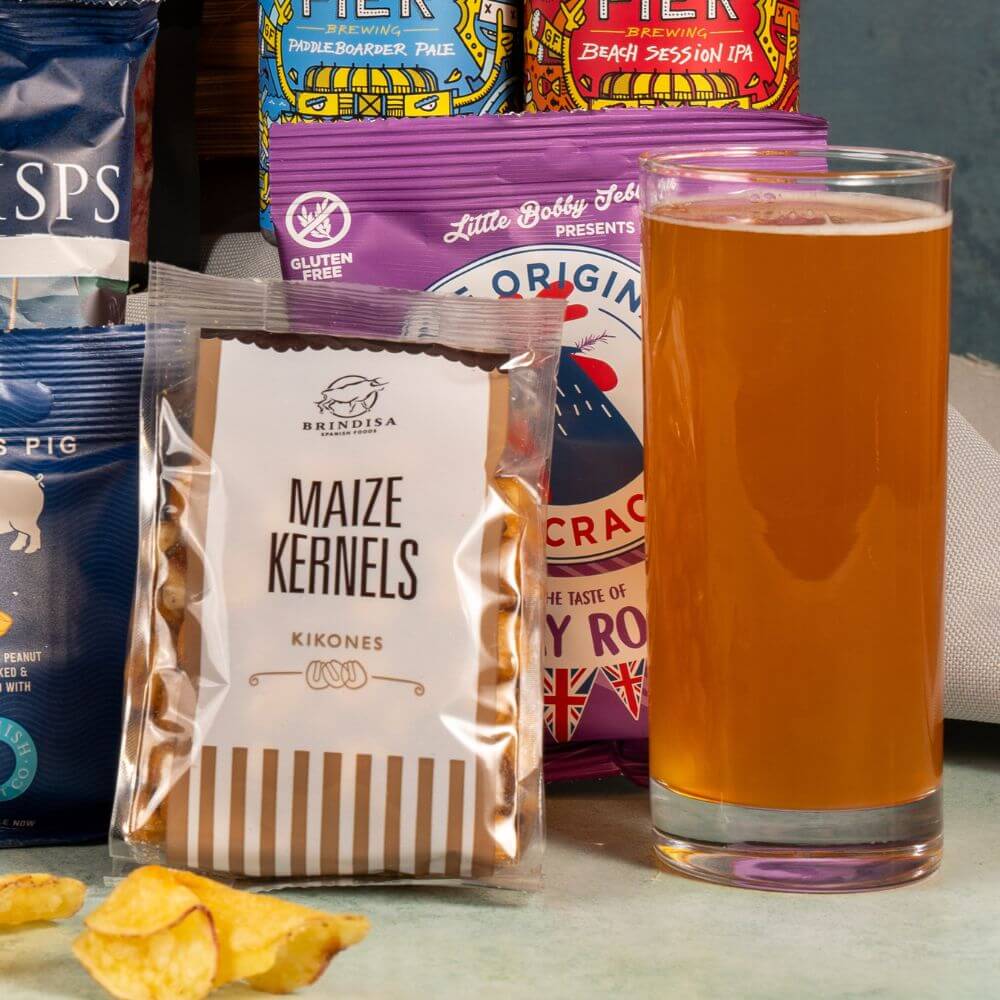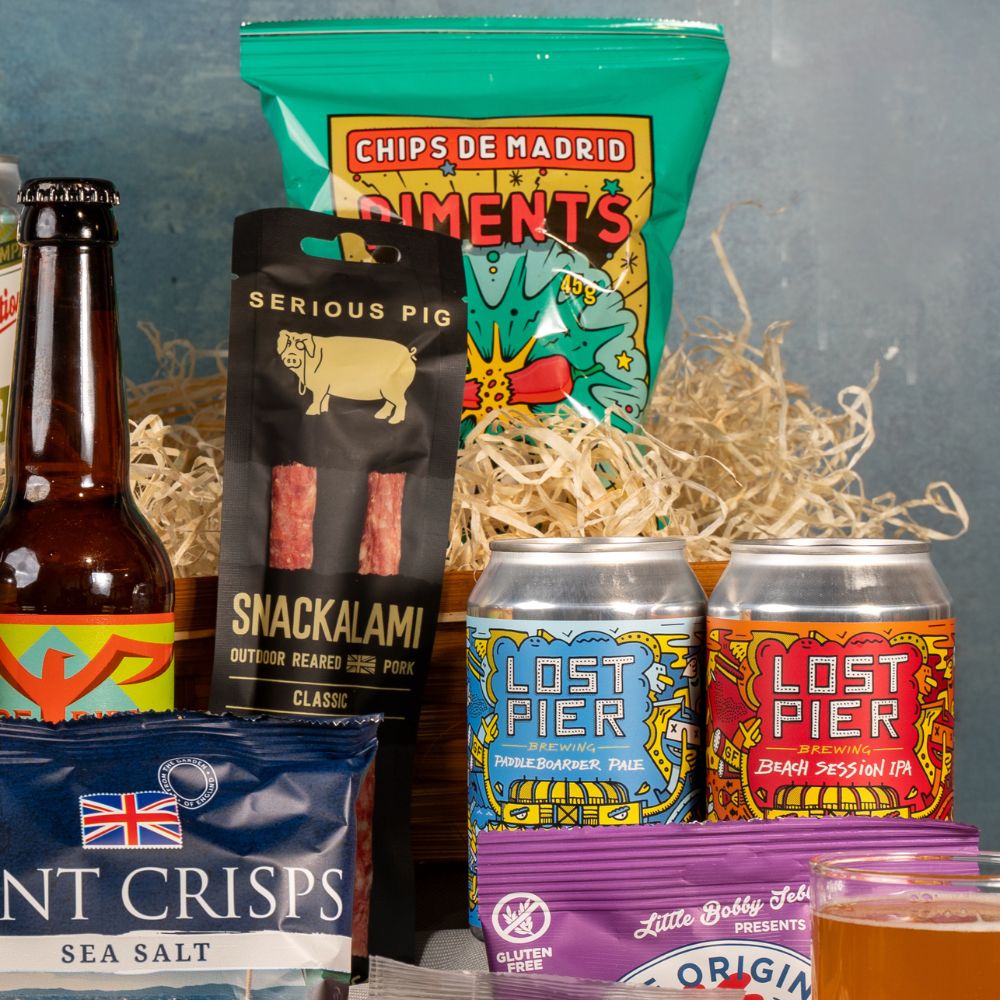 What's inside?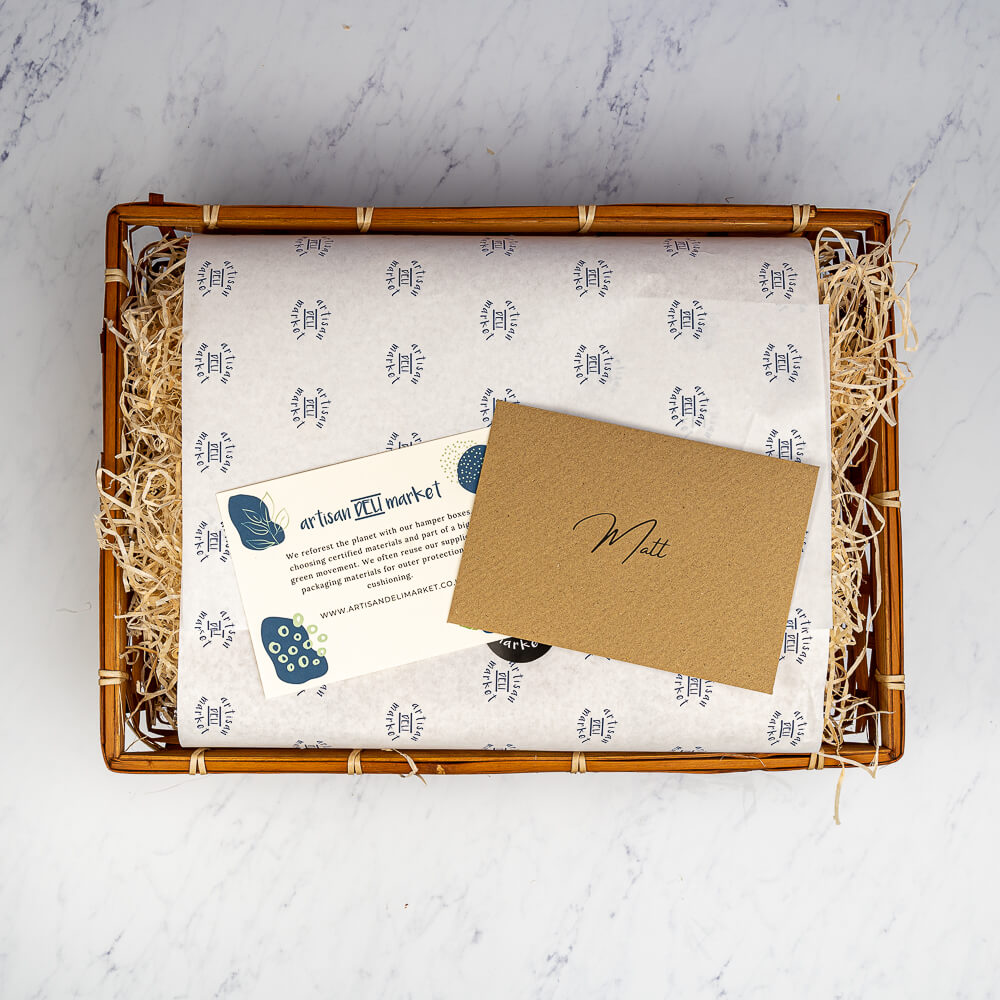 View

View

View

View

View

View

View

View

View

View

View

View

View

View

View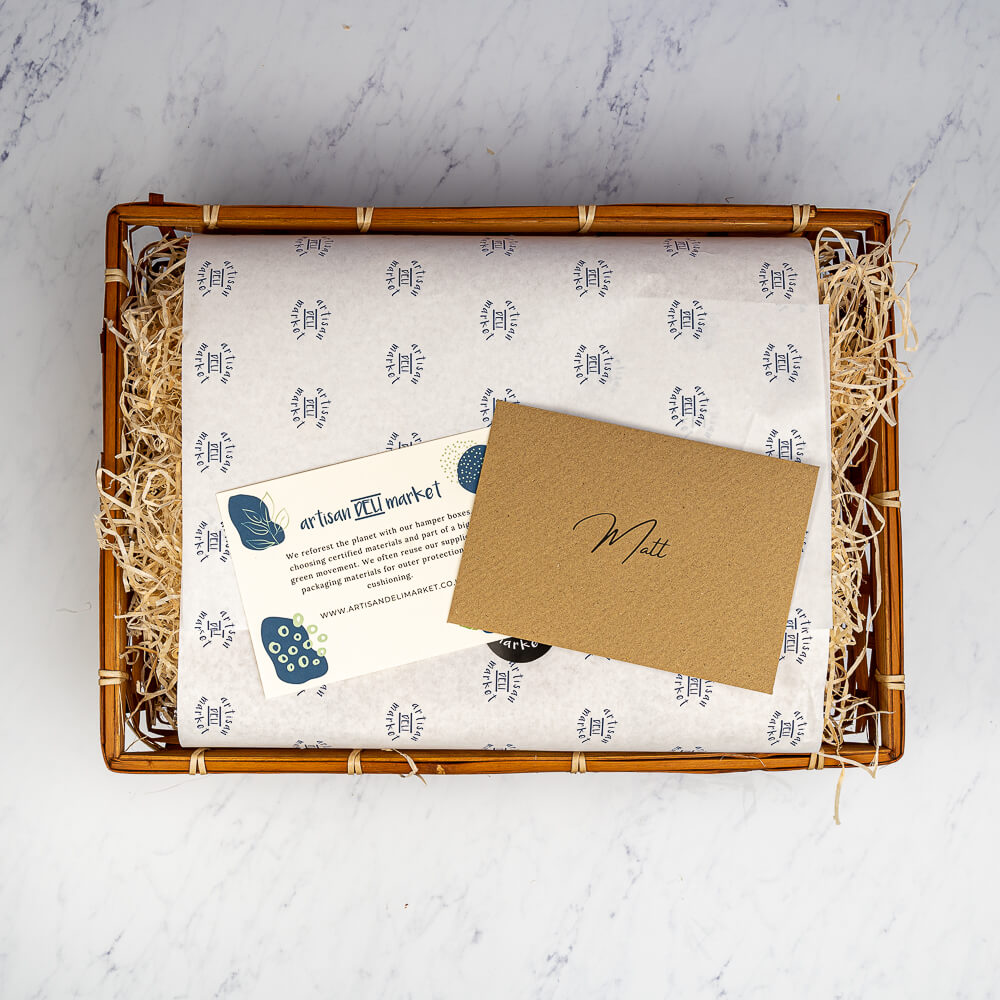 Bamboo Tray
Packed with shred to create a voyage of discovery, in one of our bambo trays.
Ivory matte gift card with your personalised message. Secured in beautiful kraft envelope with printed recipients name.
Superbon Chips Pimento 45g
Product Details
Nutritional Information
Made By: Superbon
Delicious crispy potato slices with a fiery pinch of cayenne and paprika, hot!
Superbon chips are made in La Chueca, Madrid in the heartland of potato chip excellence.
Ingredients: Potato (67%), sunflower oil (30.8%), salt (1%), cayenne pepper (0.8%) and paprika (0.4%).
Snackalami 'Classic' 30g
Product Details
Nutritional Information
Two sticks of meaty, peppery and seriously delicious snacking salami, made with Outdoor Reared British pork.
Made By: Serious Pig
Ingredients: British Pork, Salt, Dextrose, Spices (White Pepper, Ground Coriander, Garlic, Black Pepper) Preservatives (Sodium Nitrite).
Peanuts 'Cornish Sea Salted' 40g
Product Details
Nutritional Information
Made By: Serious Pig
These peanuts are baked, rather than fried, giving a crunchy bite and rich roasted flavour. They are then lightly dusted with Cornish Sea Salt to give a subtle saltiness that compliments the sweet buttery notes of the nut.
Ingredients: peanuts, sea salt.
Chicken Crackling Sunday Roast 30g
Product Details
Nutritional Information
Ingredients: Chicken Skins (97%), Rosemary & Thyme Seasoning (3%) [Yeast Extract, Salt, Onion Powder, Sugar, Rice Flour, Tomato Powder, Garlic Powder, Thyme, Acidity Regulator (Citric Acid), Black Pepper, Rosemary, Basil, Oregano, Sage, Parsley, Rapeseed Oil, Flavourings, Colour (Curcumin)], Rapeseed Oil
Sea Salt Kent Crisps 40g
Product Details
Nutritional Information
Made By: Kent Crisps
Delicately flavoured with natural sea salt, allowing the taste of our Great British potatoes to shine through.
Suitable for Vegetarians and Vegans
Gluten free
Dairy Free
No artificial colours or added MSG
Hand cooked
Ingredients
Potatoes, Sunflower oil, Sea salt.
Allergens stated in BOLD.
Brindisa Maize Kernels 100g
Outstanding high-quality, additive-free, deep fried and salted maize kernels.
Paddleboarder Pale 3.4% 330ml
Made By: Lost Pier Brewery
Prepare to be delighted by our Super Session Pale Ale, a brew that packs a punch in flavor despite its light alcohol content. Single hopped with Mosaic, it bursts with fresh notes of blueberry, tangerine, and papaya fruits.
Indulge in this brew's refreshing character and savor the fullness of its flavor profile. Despite its lower alcohol content, it delivers a satisfying and memorable experience for your taste buds.
Two Horses Pale Ale 3.8% 440ml
Made By: Firebird Brewing
This Pale Ale is crafted to offer ease of drinking without compromising on aroma and bitterness. The combination of four American hops creates a full-bodied brew that tantalizes the senses.
Our carefully selected malts, including Pale Ale, Crystal, Caramalt, and Munich, contribute to the beer's depth and character.
Into The Mystic 4% Session English Porter 440ml
Made By: Black Storm

Session English Porter
ABV - 4%
Colour - Dark
Aroma - Light Earthiness, Spice
Flavour - Chocolate, Coffee, Refreshing
Body - Medium
Good Times 440ml
Product Details
Nutritional Information
End Up 440ml
Made By: Duration

Is anything finer than gathering round the table to break bread? The connections we make melt away differences making any place feel like home. This table beer is meant for such occasions, finding familiarity and communality on the road. Because no matter where you are, if you go straight long enough you end up where you were.
3%
Firebird Bohemia Pilsner Lager 330ml
Product Details
Nutritional Information
Made By: Firebird Brewing
Firebird is brewed with cool precision, using spicy, floral Czech Saaz hops, and matured in sub-zero temperatures. This lager offers a captivating English twist on the original Czech-style pilsner.
Prepare to be seduced by its complexity. With a light body and a smooth, lingering finish, Firebird impresses even the most adventurous beer drinkers. Its versatility shines as it pairs beautifully with almost any meal. However, it truly excels as a refreshing fire extinguisher when enjoyed alongside rich, spicy foods
Ingredients. Water, Malted Barley, Hops.
Beach Session IPA 4% 330ml
Made By: Lost Pier Brewery
Our Session Strength IPA is the perfect companion for those seeking a refreshing and flavorful experience. With a crisp and assertively dry bite, it delivers a satisfying balance that keeps you coming back for more.
Prepare your palate for the delightful taste of passion fruit, which adds a fruity and tropical twist to each sip. The pilsner malt lends a slight honeyed sweetness, creating a harmonious flavour profile.
100% Luxury Guaranteed - Only the finest food and drinks, handpicked for quality.
The Magic of Our Hampers
We foster direct relationships with our artisan food producers: from the cheese maker meticulously crafting each wheel, to the chocolatier who pours passion into every piece, the devoted couple perfecting their chutney, and the small-scale baker bringing handmade scones to life.
Leave a Lasting Impression: Create Your Own Hamper Now.