Why not create your own hamper from scratch?
Regular price
Sale price
£99.00
Unit price
per
Featured
Sold out
Fresh Food Hampers

For hampers with perishable items, we provide overnight delivery with eco-friendly ice packs to ensure freshness. Ensure someone is available for receipt.

Non-perishable hampers also have overnight delivery, but immediate opening isn't necessary. See delivery options at checkout for details.
Why Our Hampers?

Each hamper is a testament to the art of small-batch production, where every detail matters. At Artisan Deli Market, we're dedicated to spotlighting the finest artisanal creations

Direct Relationships: Our commitment is to authenticity. By forming close ties with small-scale artisan producers, we guarantee genuine flavors and the pinnacle of culinary craftsmanship.

Artisanal Selection: From the cheese maker perfecting each batch in the English countryside to the chocolatier crafting chocolates by hand, our hampers are a celebration of artisanal Europe.

The Ideal Gift: Be it a festive occasion, a heartfelt gesture, or a spontaneous surprise – gifting our hampers means sharing a unique gourmet experience, crafted with love and care.

Eco-Conscious Elegance: While our focus is on gourmet excellence, we never overlook our environmental responsibility. Each hamper is thoughtfully packaged, ensuring sustainability meets sophistication.

Share the essence of small-batch artistry with a hamper that tells a story in every bite.
Delivery

At Artisan Deli Market, we offer the following delivery options:

Standard Delivery - £5.95
Our standard delivery service delivers your hamper within 1-3 working days from your selected delivery date on the calendar function at checkout.
Named Weekday Delivery - £7.95
Choose our named weekday delivery option and select a specific weekday for your hamper to be delivered, making it easier for you to plan ahead.
Weekend Delivery - £10.95
For those who require weekend delivery, we offer this option for your convenience.

Use our calendar function at checkout to select a delivery date that works best for you. If you're purchasing multiple hampers, you'll have the flexibility to choose a different delivery date and address for each one. Order with ease and let us take care of the rest.
The Covent Garden hamper is a delightful combination of sweet and savoury treats; it will make an excellent gift! Not only that, but it also comes with an exquisite white and red wine to perfectly complement the array of scrumptious artisan snacks. Plus, the elegant wicker exterior adds a touch of charming style.
View full details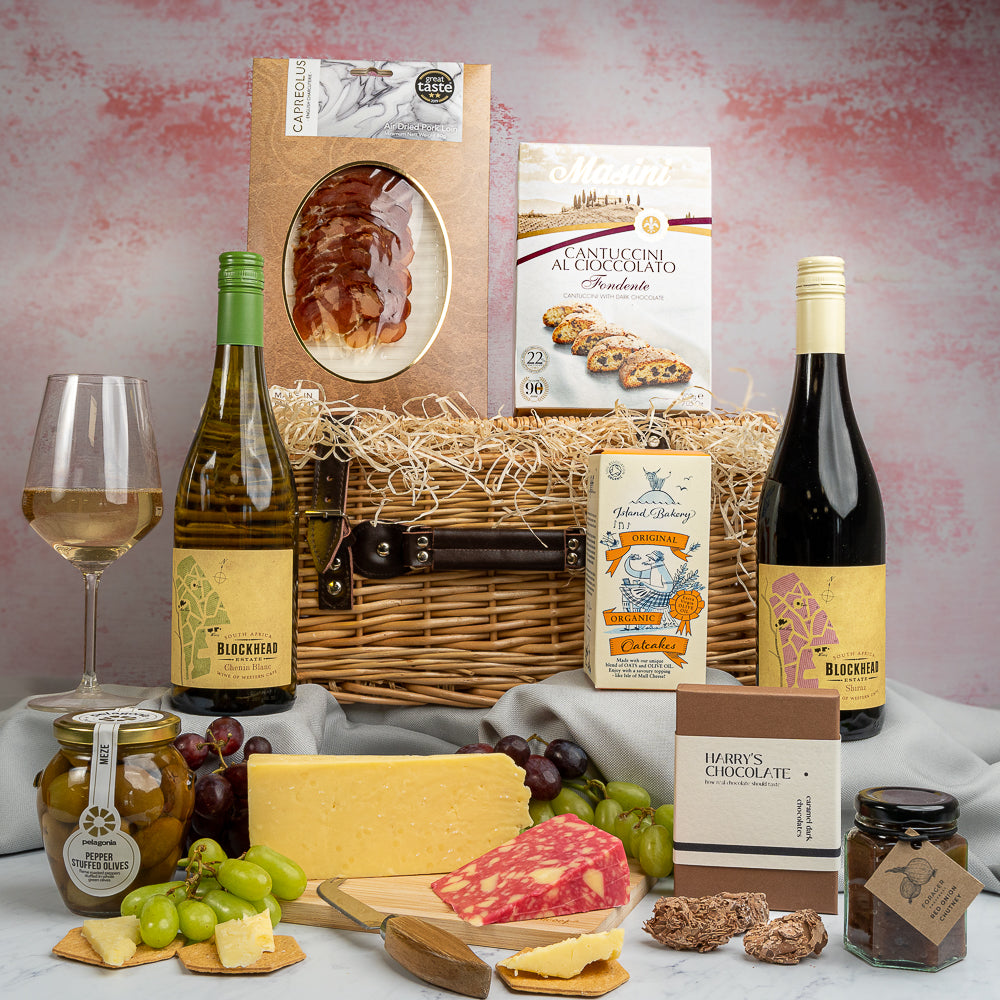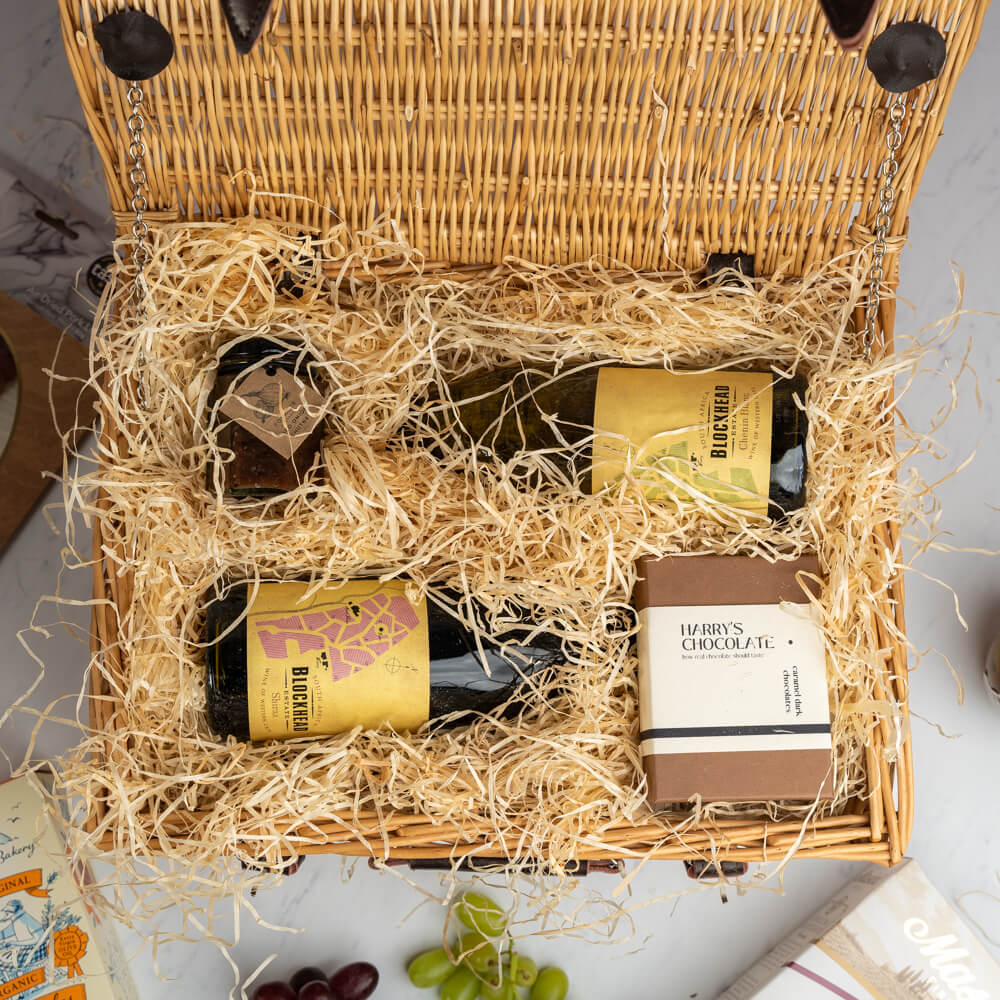 What's inside?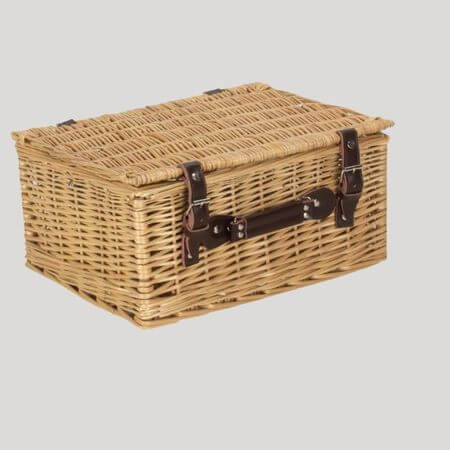 View

View

View

View

View

View

View

View

View

View

View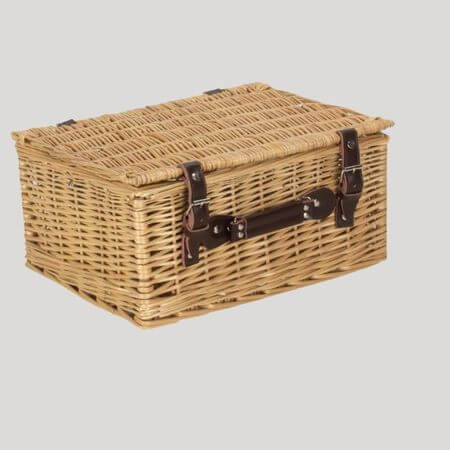 Willow Wicker Hamper 16"
16" Packed with shred to create a voyage of discovery, in one of our signature Artisan Deli Market Willow wicker hampers. Ivory matte gift card with your personalised message. Secured in beautiful kraft envelope with printed recipients name.
Blockhead Shiraz, 75cl
South Africa has been exceptionally good at producing great value reds in recent years and this Block Head Shiraz is no exception. Think deliciously soft mix of fresh strawberries and blueberries, "topped with a bit of fresh vanilla ice cream", and bingo you've got that excellent flavor profile. Awesome with a summer BBQ or a great slightly spice winter stew.
Blockhead Chenin Blanc, 75cl
Chenin Blanc

Classic baked apple and zippy citrus character with added weight and a touch of creaminess from the extended lees aging.
Open Air Dairy Mature Cheddar
Freshly cut & wrapped - Weighs approximately 150g.
West Country Mature Cheddar, a delicious mature cheddar cheese made from the milk of cows that have been grazing on the open hillsides of Dorset. The secret of this beautiful cheese lies in the slow ageing process and the locally sourced ingredients. The local cows roam freely on open grass - happy cows make perfect cheese.
Red Windsor
Product Details
Nutritional Information
Freshly cut & wrapped - Weighs approximately 150.
Red Windsor is a cheddar cheese with subtle hints of Port and Brandy. Appreciated for its rich, nutty, yet delicate flavour with a slightly tangy aftertaste, this cheese makes an excellent addition to any cheese board.
Ingredients: Pork neck, salt, black pepper, white pepper, juniper berries, coriander seeds, mace, allspice.
Air-dried Pork Loin Lomo 60g
Each slice of our lomo is beautifully marbled with delicate fat, providing a melt-in-your-mouth experience that is both rich and savoury. The flavour is complex yet balanced, with notes of sweet, smoky and nutty that linger on the palate.
Our lomo is the perfect addition to any charcuterie board or antipasti platter, and pairs beautifully with a range of accompaniments such as crusty bread, olives, cheese and pickles. It also makes a delicious ingredient in pasta dishes or salads, adding depth and complexity to any meal.
Spiced Apple Chutney
Product Details
Nutritional Information
Made by: Forager Preserves 115g
Looking to enhance the taste of your sandwich or platter? Look no further than our mouth-watering Spiced Apple Chutney! Bursting with delicious flavours and a delightful zing, it's the perfect complement to pork, cold meats, and cheese.
Forager Preserves is built around the philosophy that food tastes better when it's made by hand. Handmade without the need for pectin, each batch of our preserves is expertly made in small batches so our ingredients shine through.
Apples (49.5%), Malt Vinegar (Gluten from Barley), Onion, Sultanas (Sulphites), Mustard Seeds, Cayenne Pepper, Garlic Powder (Sulphites), Ground Ginger, Brown Sugar.
Suitable for Vegetarians and Vegans.
Flaked Milk Chocolate Truffles 90g
These delicate treats are handmade by a legendary Belgium chocolatier who migrated to London in the 1990s.
Indulge in a delicious Belgian milk chocolate truffle made in the UK. Our master chocolatier use only the finest quality cocoa butter, milk and cream to create this melt in the mouth experience. The truffle centres are finished with delicate milk chocolate flakes to round off this luxurious dessert.
Four Luxury Brandy & Orange Mince Pies
All butter brandy & orange pastry mince pies filled with luxury vine fruit and cherry mincemeat, brandy and a touch of orange zest.
100% Luxury Guaranteed - Only the finest food and drinks, handpicked for quality.
The Magic of Our Hampers
We foster direct relationships with our artisan food producers: from the cheese maker meticulously crafting each wheel, to the chocolatier who pours passion into every piece, the devoted couple perfecting their chutney, and the small-scale baker bringing handmade scones to life.
Leave a Lasting Impression: Create Your Own Hamper Now.